Wearable Technology Is the New Marketing Battleground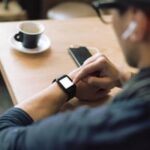 Right now, most businesses have no viable marketing strategy for wearable technology. And that's to be expected—in 2008, the year after the iPhone made its debut, no one had a marketing strategy for mobile either.
But a forecast by CCS Insight estimates sales of wearables will reach 172 million units in three years. Those numbers are significant enough for marketers to take notice.
Of course, keep in mind that wearable technology is still in its infancy. We can't craft fully fleshed-out marketing strategies until we know more about how wearables will be used and how the interface, apps and tech will develop. But there are still lessons marketers can glean from the growing pains of mobile marketing to begin to build a framework for how to leverage wearables.
Consider search. Look at the reasons smartphones and tablets have come to dominate search, and you can see the possibilities of what search marketing on wearables could one day become. Consumers love searching on mobile devices because they are always on and always present. Wearable technology has all the convenience and immediacy of mobile and more. They are on your wrist, in plain sight, making their case 24/7 to be the device of choice when you need to run a quick search for the closest pharmacy or pizza shop.
When crafting a marketing strategy for wearable search, keep these four tips in mind:
Voice is king. Wearables are hand-free devices, since there's no room for a keyboard, and all searches are voice searches. Voice search already exists for smartphones, of course, and is actually a small-but-growing subset of mobile search. According to a study by Mizuho Securities, seven percent of searches on smartphones are voice searches, where consumers speak commands to virtual assistants such as Siri or Google Now. Voice search differs from keyword search by being more conversational, refined and specific, with search queries often exceeding 20 words. For example, someone searching for cowboy boots on their desktop might just search "cowboy boots," but when using voice might say "call the closest open store near me that has size 12 men's black leather cowboy boots on sale." To tap into this market, it will be more important than ever that marketers optimize local SEO and paid search programs for long-tail keywords that are more in-line with how people talk when they search.
Consumers convert by calling. Because wearable searches are hands-free voice searches, and because many wearables are also phones, calls are the natural conversion path for wearable advertising. People searching for local businesses on their watches, for example, will engage the business by calling, just as they do now with smartphone searches. Measuring these calls and tying them back to searches and ads will one of the two most important ways marketers will measure return on ad spend from wearables, with in-store visits and purchases being the other.
Personalize the call experience. Callers will also expect a personalized call experience when calling on wearables. They will be your most impatient caller, and will hang up quickly if kept on hold or forced to interact with a lengthy and multi-layered interactive voice response (IVR) phone menu. Marketers will need to make sure callers are routed to the most relevant agent, store, dealership, or call center right away based on where that caller is located, the date and time of the call, and the search or ad they are calling from.
Beacons and search will work together. Besides search, beacons are the other big advertising channel targeting wearables. Beacons are alerts that pop up on your wearable when you are physically close to or inside a business. Beacons will be more effective on wearables than on smartphones because your wearable is on your wrist and within easy view all the time, not hidden in your pocket. Marketers will be able to combine beacon technology with search to show alerts based on past searches. For example, if a week after running that search for cowboy boots (mentioned above) you happened to be walking by a store that carries them, an alert can pop up on your watch and let you know they are in and on sale.
Ultimately, consumer adoption and technological innovation will determine if wearables are the next battlefield where marketers must compete. Will wearables be the next smartphone and dominate marketing in the decade to come, or will they be more like the QR code, a once-promising advertising channel that fizzled out almost as quickly as it appeared? My money is on the former, and the sooner you begin to formulate a marketing strategy, the more likely you are to win.
Irv Shapiro is the CEO of DialogTech.
Related Articles:
The Rise of Mobile Moment Advertising
Optimizing Mobile Apps for Lead Gen
How Mobile Measurement is Changing Brand and Agency Relationships