5 Ways to Help Millennial New Hires be Successful
Despite all the talk about Millennials being self-absorbed job-hoppers in search of the next gig, a little TLC—in the form of advice, training, whatever you want to call it—can go a long way towards grooming this mega-group to be top marketing professionals.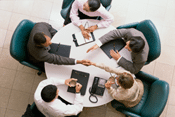 More than any other generation of workers, Millennials have been maligned, picked on and pigeonholed by corporate (and fellow employees—you know who you are). But Millennials are not all the same.
Vicky Oliver, a career development expert, offers five sensible ways to embrace the challenges of hiring Millennials and being more hospitable to helping them succeed and fit in.
One easy solution is to pair new hires with intergenerational teams. Older workers can pass along their in-depth knowledge while new younger hires can share their expertise with technology, making the team sparkle at new business pitches and other important meetings. Vicky includes examples of how to implement each of her five tips when hiring Millennials. Read the article …
Related articles:
Agency Trust Hurt by Millennial Job-Hoppers
What to do When Your Creative Confidence Takes a Tumble
4 Tips to Keep Top Creative Talent Happy