Wakanda Forever: Black Panther's Lessons for Marketers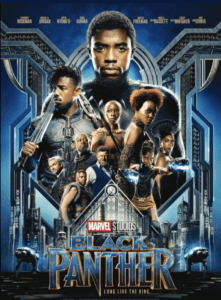 When he's not busy defending the nation of Wakanda, Marvel's Black Panther can teach marketers a thing or two about building demand for a new property.
"It's all about demand management and the slow burn. The launch pad for this film was always going to be the African-American community," says Hank Boyd, marketing professor at the University of Maryland's Robert H. Smith School of Business. "They knew that if the film created enough of a buzz with the African-American community, it would draw in all kinds of folks."
The character of Black Panther created by Stan Lee and Jack Kirby, debuted in 1966, and the movie is the first Marvel feature headlined by a black superhero. The film was announced three years ago, and the trailer debuted last July at Comic-Con International to a standing ovation. "All the while, the buzz is building and building and building," Boyd says. "It was so well executed."
And all that buzz translated into ticket sales. According to analysis by ComScore, the audience demographic for "Black Panther" was 37 percent black and 35 percent white during the film's opening weekend. The film grossed over $427 million globally in its opening week.
"If you are very selective about your target market," says Boyd, "and you have a great product, and you win over that target audience, they will tell other people. They become your acolytes. And that's what happened here."
The February timing of the release, to coincide with Black History Month, was a bold move. "If it had been released in the summer, it might have gotten lost in the mix," he notes.
Boyd also praises the merchandising of the film, ranging from the traditional t-shirts and toys, to Lexus commercials and fashions for girls at the Disney Store inspired by the Dora Milaje, the team of female warriors who protect T'Challa and Wakanda.
"Fashion is a big thing in the African American community and they did an outstanding job merchandising the movie," he says.
Overall, Boyd says he doesn't think Marvel missed any steps when it came to marketing the movie. "Everything fell into place," he says. "There was a bit of serendipity along the way. Hopefully, going forward we're going to see more inclusion. It has to come."
A comic book fan himself, Boyd hopes the movie will inspire a new generation of creators, and Marvel's distinguished competition, DC Comics to broaden the spectrum of characters it features in comics, television and film. (In January, DC launched Black Lightning, its first CW series headlined by a black character.)
"Marvel took a huge risk and showed the world how it is done. Now the onus is on DC to diversify their roster," notes Boyd. "They've tried it with Cyborg [in Justice League]. There's tremendous potential. Hollywood has tremendously underserved communities. It's about time."
Related Articles:
Movie Superheroes: Fighting for Truth, Justice and Good Buzz
Everyone Wants to Be Groot—The Guardians Marketing Blitz
4 Lessons From Marvel's Movie Successes (And DC's Shortcomings)