Everyone Wants to be Groot—The Guardians Marketing Blitz
When just about anyone outside of diehard comics fans heard the name Star Lord before the surprise 2014 success of the original "Guardians of the Galaxy," they uttered a confused "Who???"
Now, brands are lining up to partner with Star Lord and his teammates Rocket, Gamora, Drax and of course, the adorable Baby Groot. And despite the fact that much of the movie doesn't even take place on this planet, Earth's brands are having no trouble integrating their promotions with the characters.
Ahead of the May 5 release of "Guardians of the Galaxy Vol. 2," here's a round-up of some of the campaigns featuring the characters:
Doritos: Would Drax Eat Green Chips? An on-bag code in specially marked packages is required to play the Doritos'/Guardians instant win game via text message. Winners will receive a Fandango promo code good for two movie tickets to see—what else—"Guardians of the Galaxy Vol. 2." And for those with an adventurous palate, Doritos has debuted a tie-in special flavor, Super Nova. The bright green chips are flavored with "zesty lime and black pepper" and you'll have to travel to get them—not quite to another universe, but to Australia. Closer to home, Doritos is also offering special Amazon-exclusive packaging embedded with a soundchip that will play the "Guardians" soundtrack. Sounds delicious.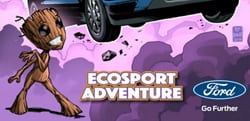 From Spaceship to SUV with Ford EcoSport: Their ride in the movie may be the Milano, but they'll also be taking a spin in an SUV. The vehicle will make a cameo in the movie and to return the favor, Groot will appear in a "Be the Guardian of Your Galaxy" TV commercial for the Ford EcoSport. The campaign will also feature an exclusive digital comic highlighting the vehicle's features. The comic will have a limited print run of 500 copies, potentially making it a coveted collectible for comic book fans.
Geico's Gecko Meets Groot: Geico's long-time agency, The Martin Agency, created an ad featuring the two characters to promote both the movie and the insurance agency. The gag is that Groot keeps saying "I am Groot" rather than the Geico pitch of saving 15%, much to the chagrin of the Gecko.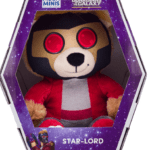 Build-a-Bear—or a Raccoon: For those who prefer their superheroes on the cuddly side, Build-A-Bear has introduced a Guardians collection, featuring plushes of Groot and Rocket, and "mega minis" of the team. We can't decide if the Star Lord bear is adorable, or spooky, or both. (Probably both.)
M&M&…Rocket? In a new commercial, M&M's mascots Red and Yellow meet a real raccoon they mistake for the Guardians' feisty Rocket (who, for the record, does not like being called a raccoon). In addition, a NYC subway car is being transformed into an immersive advertisement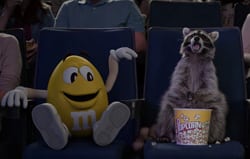 featuring Guardians & M&M's characters. And naturally, co-branded candies will be available in cinemas and retailers.
Dairy Queen of the Galaxy: The ice cream QSR has teamed up with Marvel to offer a Guardians themed "Awesome Mix" blizzard, which combines brownie and cookies to create "Brookie" pieces that mix with caramel, choco chunks, and vanilla soft-serve. And starting Wed, April 26 at 1 p.m., fans can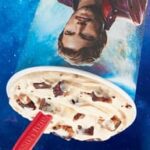 claim one of 1,000 exclusive Guardians-inspired mixtapes at MissionMixtape.com. The catch? Fans have to have access to a cassette player (remember those?) to unlock the rewards, such as DQ gift cards and cast-signed movie posters.
Related Articles: 
Movie Superheroes: Fighting for Truth, Justice and Good Buzz
How Marvel Built Community Via Viral
Arrow's Stephen Amell Hits Marketing Bulls Eye