Tweet—and a Knorr Meal will Appear at Your Door
Food and beverage brand Korr has a lot going on this week. It is launching a free home delivery service for its One Skillet Meals and celebrating National Farmers Market Week.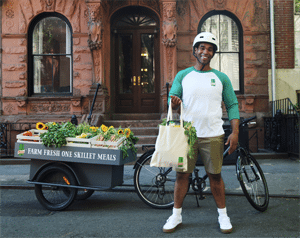 Knorr, owned by Unilever, is using social media and an event as the methods to promote the new delivery service.
New Yorkers who live in Manhattan can place their order by tweeting #KnorrToMyDoor along with the carrot emoji to @Knorr to receive a link to sign up for the free delivery. They can sign up to choose from of one of two varieties of its meal starters—One Skillet Meals Lemon Chicken with Barley or Rustic Italian White Bean with Farro. Before long, the mobile Farmers Market will arrive at their door and drop off the meal.
Today, Knorr is also hosting a pop-up farm stand at The New York Botanical Gardens' Farmers Market to continue the celebration of its new delivery service. Chef demonstrations, tastings and giveaways are all part of the activities. The Market is part of Wellness Wednesdays at NYBG.
---
Other articles you might enjoy:
---
The promotion celebrates National Farmers Market Week Aug. 5 – 9 and is in partnership with experiential technology platform Fooji. The produce in the meals is locally grown in New York.
"At Knorr, we're encouraging people to discover new flavors and cooking skills through simple home cooking and the seasonal produce available at their local farmers markets," Brian Critz, Knorr marketing director at Unilever, North America, says. "We're excited for people to try [the meals] which pair organic ancient grains, like farro and barley, with the best of the season's local vegetables like zucchini, cherry tomatoes and carrots.