Casper Opens 'The Dreamery' in NYC just for Nappers
New York City may be known as the city that never sleeps, but the bedding start-up and near behemoth, Casper, is providing a spot for harried residents and visitors to grab a quick nap.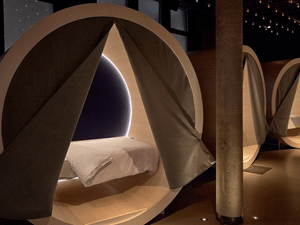 The brand opened a brick-and-mortar pop-up in the SoHo neighborhood, a top shopping destination, offering a place for those in need of some rest—for a price.
Called The Dreamery, nooks can be reserved for a 45-minutes at $25 per "rest session." The shop offers a number of amenities like lockers to hold personal items, private washrooms and a lounge to grab a coffee to shake off that lovely snooze.
"The Dreamery is about making sleep and rest a part of our regular wellness routines—similar to how many people prioritize a workout class," said Neil Parikh, Casper cofounder and COO, in an statement. "The concept enables us to pilot new ways of bringing better sleep to more people and to more places—whether that's here, the workplace, airports, or beyond."
The concept also allows consumers to test drive its mattresses and customer service. In a pointed marketing strategy, the pop-up is located on the same New York City block as a Casper sleep store.
---
More on Disruptive Marketing Campaigns:
---
Architectural Digest profiled The Dreamery writing: "As to be expected from a company founded on the intention of upending an age-old industry, though, this is no ordinary mattress showroom."
It described the space as "outfitted with individual sleep pods and walls and ceilings whose pinprick lights mimic a starry sky."
The Dreamery continues Casper the friendly mattress store's disruptive marketing strategy. It shuns, or perhaps, despises the typical cutesy images of kid's feet sticking out from under the covers or couples cuddling up on a soft mattress. Casper is into hacks, fake photos, a colorful cast of characters, "unboxing" videos and weekly series like "Waffle Crush Wednesdays" and chatbots.
In only its third full year, the company's total revenue since inception has grown to more than $600M, crunchbase reported in January.