Nesquik Stages First Experience—Marketer Tells All
The 70-year-old flavored milk drink, Nesquik hosted its first experiential event last month.
The week-long, multi-sensory playground, "The Nesquik Milk Stop" was set up at the popular Third Street Promenade in Santa Monica, CA, and was open for business July 21-27.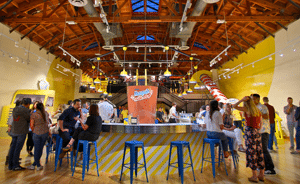 Restaurateur and Cooking Channel's Late Nite Eats host, Chef Jordan Andino, was on hand and developed two exclusive Nesquik-based menu items for visitors, the Nesquik Candied Bacon milkshake and the Nesquik Berry and Banana smoothie, which were served throughout the activation.
Visitors enjoyed fan favorites and customized their own milk creations by dipping the rims of glasses into flavorings like crushed almonds, shaved coconut and peanut butter. They also added toppings like orange and watermelon wedges and PB&J skewers, at Quicky's Milk Truck. Photos were shared at the "Raining Milk" backdrop or the "Grocery Aisle" wall as visitors zoomed down the giant, two-story straw slide.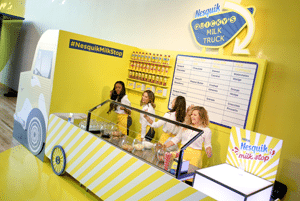 A timeline educated visitors about Nesquik's history. For example, in 1948, Nestlé's "Quik" chocolate powder hit store shelves. The strawberry flavor debuted in the 1950s and by the 1970s Quicky, the Nesquik bunny, was introduced. As the era of ready-to-eat began, Nestlé introduced ready-to-drink bottles and syrups in the 1980s. Most recently, as consumer preferences have turned to healthier lifestyles, the brand also evolved with more nutritious options including Nesquik Chocolate Powder, which provides 12 essential vitamins and minerals when prepared with one cup of low-fat, vitamin A&D milk.
Nesquik Marketing Manager, Jackie Jimenez, who has been with parent Nestlé for 7 years, takes us behind the scenes on how the brand's first experiential event came to be and how it all went down.
CHIEF MARKETER: Why was a live experience the right marketing strategy now for Nesquik?
JACKIE JIMENEZ: Nesquik isn't new to experiential, but for the past five years the way we approached experiential was more from the discipline of field marketing. This year, we took a look at our whole [marketing] plan—what's working, what's not. The fact that we have been around for 70 years is a true testament to the brand and its staying power. We also know we have a strong community of brand lovers, but also that there are perceptions or relevance issues around a brand that has been around for a long time. We wanted to stay relevant.
CM: What did you learn from your consumers?
JJ: What struck us when talking with our consumers and people that have a lot of passion for the brand is that we're known as the powder that was mixed into milk when they were kids. It was surprising to a lot of people that we've launched a line of ready-to-drink products and we have a lot more to offer than what our heritage says. We want to make sure that everyone knows we have evolved.
CM: Did you learn anything unexpected?
JJ: The surprising piece to me from a biz standpoint was that the powder was the most iconic part of the brand, but that a majority of our business comes from the ready-to-drink products and a majority of that comes from adults.
---
Other articles you might enjoy:
---
CM: What emerged as the marketing plan for this year?
JJ: As we headed into planning for 2018 we knew that we wanted to walk away from the present way of reaching consumers and look for a new way. A consumer experience stood out. It's a great way, if done right, to break through the clutter and truly engage with those that love you and those that may not know you.
CM: What is your overall view of the experiential event?
JJ: We wanted to make sure that we got great impressions of the event. All those positive feelings; All of that was brought to life physically in the space.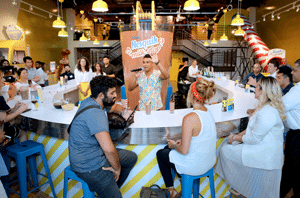 CM: Did you collect content to amplify the event beyond just that week?
JJ: That was a very rich conversation in the planning stages of this event. Everything was designed to be sharable, Instagram worthy. One key element was partnering with celebrity Chef Jordan Andino, he is the embodiment of the Nesquik lover and being known as a brand for all ages. We had 300 public posts from those who attended the event. The space itself was a really engaging backdrop for content and photos. We plan to use some of that as evergreen pieces within our content strategy as we embark on this journey to become a really relevant brand.
CM: How does this experiential event fit into the overall marketing strategy for Nesquik?
JJ: We're open to exploring [more experiences]. It's so new, it's the first of its kind that we've done on Nesquik so while we're really excited and leveraged the 70th year anniversary as a foundation of this activation, we now need to know how it truly performed for us, we're very optimistic.
CM: What was attendance like?
JJ: We exceeded expectations by four times.
CM: How did you market the event?
JJ: We used modern day word-of-mouth and PR. We partnered with influencers, including micro-influencers with strong LA followings. We leveraged our own social accounts and personal networks to get the word out there and to make it be known that this is a brand for all ages.
CM: What would you say are the essential components of an effective fan experience?
JJ: Three things. It should feel really authentic and all of the components need to feel like they are part of the brand's DNA. Everything about our experience was Nesquik: the white and yellow straws are key to our brand assets and celebrating yellow, the history of our advertising, the Nesquik Bunny, all of these elements were very much embedded in our DNA. You also need to offer something new—what is your hook.