Snickers Tests Mood Targeting
Snickers is moving into a new era of marketing: mining mood signals to determine people's preferences for a chocolate snack.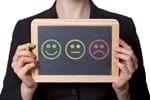 The work is being done with Google's ad server DoubleClick. Mood-based targeting is showing interest among brands, however the results have yet to be borne out.
Last spring, Spotify launched mood targeting around consumers' music collections. The data allows marketers to learn when and where people are listening to their favorite music.
The idea of this type of targeting is to key into a consumer's mood to serve ads appropriate to those moods. Got the late afternoon blahs? Must be time for a Snickers bar! Get the details from DigiDay.
Related article: