SAP Tech on Display at the Super Bowl
SAP is showcasing its fantasy football database and social media tech solutions as part of the NFL.com Stats Zone fan experience at Super Bowl XLIX in Arizona this week.
SAP is the official cloud software solutions, business software solutions and business analytics software sponsor of the NFL, and is leveraging its technologies to help the league and its sponsored teams optimize their business processes to gain a competitive edge on and off the field, while also enhancing the football experience for fans.
This week, SAP will be providing fans and media with unique insights into what's trending and how fans are talking about the big game on social media through the NFL.com Stats Zone.
As part of their partnership over the past few years, SAP has worked with the NFL on enhancing its fantasy football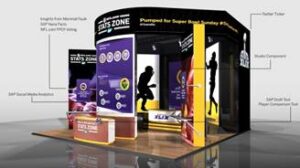 offerings to fans with solutions such as the player comparison tool within the NFL's online fantasy football experience, which operates on a SAP platform.
"We thought, what can we do as a brand that would make sense not only for us, but also for NFL.com to bring this story to life?" says Chris Burton, vp of global sponsorships at SAP.
SAP piloted the program last year at the Super Bowl Boulevard fan experience in New York City.
"We created a consumer-grade experience to showcase some of the things we're doing with NFL.com and it was spectacularly successful. The touched eyeballs, the promoter scores all came back off the charts. We felt like we were able to punch through and create something every unique to SAP in a very crowded place with huge brands and other SAP customers like Bud Light, Verizon and Visa," Burton says.
Looking to this year's Super Bowl, SAP wanted to take the fan experience to the next level.
The 2015 Stats Zone allows the fans to dig into information on their favorite players, and allows them to take a deeper look into fantasy as it relates to some of the year's most outstanding players. SAP also sponsors the Fantasy Football Player of the Year contest, and fans will have the opportunity to create a video pitch for their choice for Fantasy Player of the Year within the Stats Zone, place their vote and upload their video to their social media channels.
"If you care about football and you're passionate about it, the ability to take this information and share it with others through social media platforms is key," Burton says.
SAP partnered with Phizzle, a company that captures social media information and puts it on a SAP database. Fan sentiments are then displayed on the ribbon across the top of the exhibit. Trending topics and heat maps showing trending topics are also a part of the experience.
"It allows people within this environment to tell their story and share things that they've found. If you look at the billion eyeballs in play at the Super Bowl, it still is about your personal relationship with your team or an individual on that team. That matters, and we think the social platform we're building will allow them to do that," Burton says.
A broadcast studio within the experience provides fans with an inside look at SAP technology, including the NFL Player Comparison Tool for NFL.com fantasy football, which gives side-by-side player comparisons that enable fans to make better fantasy football decisions. The experience also highlights draft and depth chart tools that were developed for SAP ambassador and former NFL running back Marshall Faulk.
These types of experiences are aimed at paying dividends in the future, as well, Burton says.
"We fundamentally believe that the millennials are going to be the people that buy cloud software from SAP in the future, so providing this technology and providing consumer-grade experiences in the NFL Stat Zone puts the brand in front of those future customers. You're going to see a lot more of this from SAP, not only with the NFL. All of these thought leadership plays are not just to act like Pepsi or Bud Light, it really will have an impact and translate to opportunity to SAP. We've measured it, and we have had phenomenal results. The secret sauce is not to have a sticker—content is the new oxygen in marketing partnerships and for us, we have to have a relevant and authentic technology showcase so that content can come to life, not only for the sports and entertainment industry but also across the other 25 industries that use SAP solutions," Burton says.