Papa Murphy's CMO Talks Social Media Strategy, Promotional Activations and Pandemic Pivots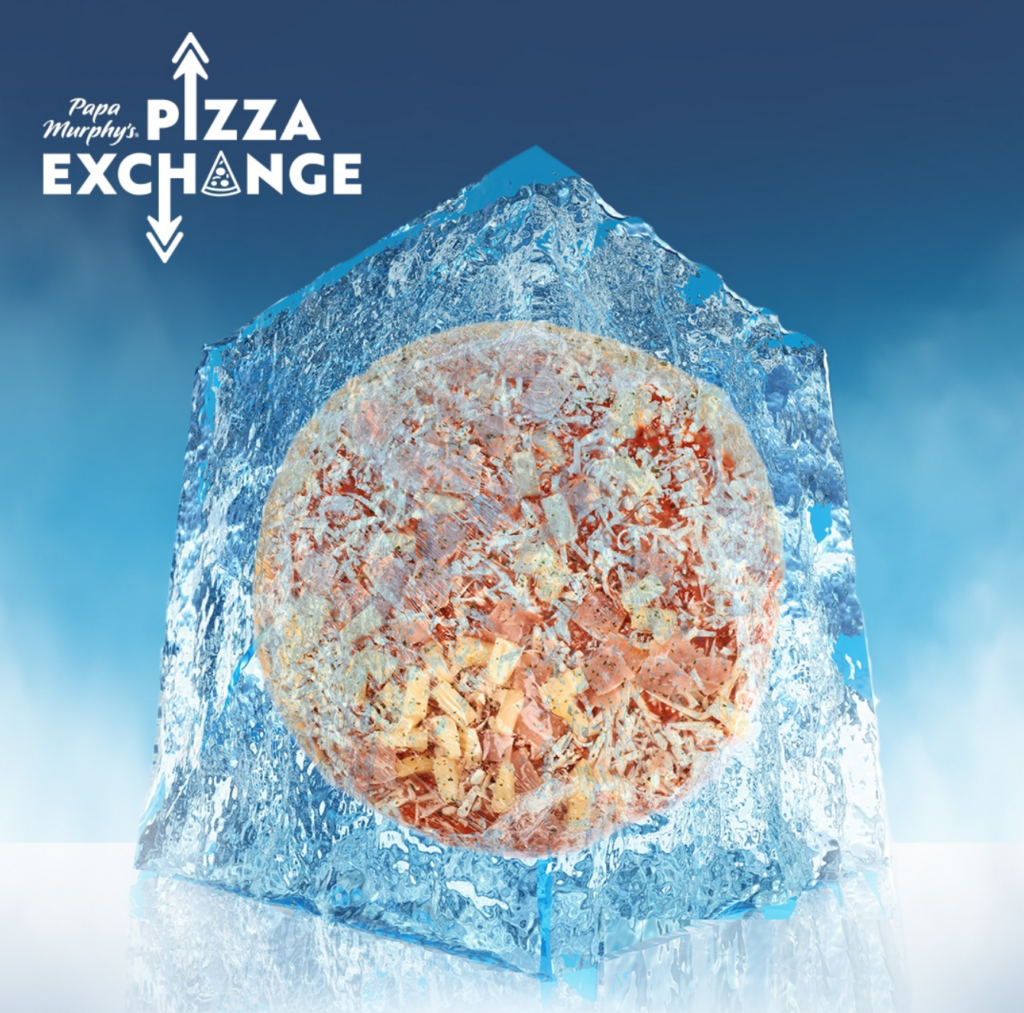 Sometimes calling out your competitors—rather than pretending that they don't exist—can be a winning marketing strategy. Innovative brand teams have even featured their rivals within their own campaigns. Take Burger King, which is known for trolling competitor McDonald's even on its own turf. The brand asked consumers to unlock a coupon for a Whopper for a penny if—and only if—they were within 600 feet of a McDonald's. BK also has implicitly mocked the Golden Arches for what it says is a lack of fresh ingredients. A time-lapsed video of a Whopper decaying over time shows just how fresh Burger King's ingredients are, by contrast.
Owning "freshness" was something that another food product, West Coast-based take 'n' bake pizza brand Papa Murphy's, has taken on. During the first week of October, which is also National Pizza Month, the brand launched a "Search for America's Oldest Frozen Pizza" sweepstakes in which consumers were asked to find old frozen pizzas in the back of their freezers and post pics of them for a chance to win a year-supply of pizzas and a new freezer stocked with meat, ice cream and veggies. Since Papa Murphy's is made fresh daily and designed to be baked at home for 15 minutes, and its biggest competitors are actually frozen pizzas rather than delivery chains, the sweepstakes has helped spread brand awareness—all while throwing frozen pizzas under the bus.
We spoke with Kim McBee, Chief Marketing Officer and Senior Vice President of Customer Experience for Papa Murphy's, about the campaign, the importance of having a robust social media strategy, how the brand drives innovation and its new objective of building an annual promotional calendar with COVID-friendly activations.
Chief Marketer: Let's start with some specifics of the campaign. Can you talk about the inspiration behind the sweepstakes?
Kim McBee: A lot of folks aren't familiar with Papa Murphy's take 'n' bake concept, especially in markets where we're newer or don't have brand awareness. We started in the Pacific Northwest about 40 years ago, so folks there are familiar, but if we're going to grow this brand across the country we need to disrupt and make people understand what take 'n' bake is all about. How do we talk to people about the freshness, and what makes our brand so special? We make the dough fresh daily. We chop the vegetables daily, we shred the cheese daily. So we thought, you know what? We compete with frozen and heat-and-eat meals more so than the top pizza delivery competitors out there.
Of course, we do compete with those folks. It's a whole different use occasion when you want to get something delivered. Ours is all about baking it in your own oven. So, that's where that inspiration came. You can go get a freshly-made pizza customized the way you want, put it into your oven and serve it piping hot in 15 minutes. [We thought,] so many people have frozen pizzas in their freezers, so let's go find out how old some of those are and talk about the quality. It gives us a platform to talk about fresh, quality ingredients and it's a fun way to talk about our brand.
CM: So, the strategic marketing goal is brand awareness?
KM: Absolutely, and to get people to understand why it's a benefit—not an inconvenience—to bake it. We're bold and unapologetic that you have to bake our pizza. That is a big piece of it: Instead of cold out of a box, you get it piping hot out of your oven. People really care about the food they eat these days. And to know about the effort we go into every single day to prepare is incredible. And it's not just our pizza. We have fresh cookie dough that we make from scratch and other things.
CM: How are you making sure that consumers know about the sweepstakes and marketing program?
KM: We launched it on Twitter because we know these kinds of contests play well and go viral. We announced it on Facebook and Instagram and we've sent emails to those who are a part of our loyalty program. A lot of what we're trying to do right now is build our database. So, having fun sweepstakes and contests is about us being able to talk to them in the future as well. What's been great is that we see these comments coming through that are so positive about the brand.
CM: Is building your database for the purposes of an email marketing push in the future? What are the main reasons behind building it?
KM: That is a core strategy for us because it allows us to talk to people and nurture that database. And once you have them in there, you can monitor how many people join and opt out and those kinds of things. We know much you're worth to us with every single transaction and how many times you come in. And then we have the ability to nurture the whole customer journey. If we have lapsed customers, we can increase our offers to them. We can understand high value and learn from those insights. Having that database to be able to talk to people in the future, and continue that customer journey, is important to us.
We have a loyalty program called My Slice Rewards. But not everybody joins it. We still have an existing database of folks who allow us to talk to them and remind them about specials or innovation or new pizzas. It's how we talk to our customers. We have a lot of insights these days into how people are coming, how they're joining our database and then how we're keeping them along the way.
CM: How has marketing changed for you during the pandemic?
KM: We have been very fortunate because we are deemed an essential business, by virtue of us having a takeout product. So, we haven't had to shut down. What we've done is make sure that our safety and sanitation is following CDC guidelines and local health municipalities'. Our core message has been that you can have contactless pickup or delivery. We work with third-party delivery providers and we also instituted curbside. We had curbside in some of our locations, but more of them adopted that. We are virtually a 100 percent franchise system. So, our franchisees can do curbside if they elect to, and we have encouraged them to do so.
We've been very fortunate in this timeframe. People are looking for meal options because they're eating three meals a day at home, and we have a great product you can feel good about feeding your family. The pandemic has given us a platform to talk about our brand in a way that we haven't in a while—the freshness of our ingredients, that we have new types of pizzas out there, et cetera.
CM: Has anything changed in terms of digital advertising or ecommerce? A lot of brands have ramped those up during the pandemic.
KM: We have online ordering. It's a big part of our business and it definitely increased. We were launching a new campaign, called "Change the Way You Pizza," right when the pandemic hit. We had new creative that talked about how we press our dough fresh daily. But it was going to launch during March Madness and the NCAA basketball tournament, and we had a big crowd of people in a house watching a game. Oops, not going to show that—because it was in March. So, we pulled that spot, but we used a family sitting at the table and they had their dog with them dressed up, ready to eat dinner, and the dog had glasses and a tie on. We changed the spot to say that we have contactless delivery, curbside, online ordering. And we said that we're all in this together and we care. We shifted that whole campaign.
From a digital perspective, we made sure that our coupons didn't say "in-store only." We made sure that everything was available online or in-store, depending on the municipality, and that whatever digital advertising we were doing and any emails we were sending were not tone deaf to what was happening. We did digital messaging around thanking our owners and our crew for working so hard, because again, we are an essential business, and our sales increased. People were working really hard. We also donated pizzas to essential workers that we knew were working 24/7.
Last chance to unearth America's oldest frozen pizzas from your freezers for a chance to win a year's worth of @PapaMurphys pizza! Follow and tag us with a pic of the expiration date and #pizzaexchange #sweepstakes for a chance to win! #NationalPizzaMonth pic.twitter.com/WzGVKL5Dr4

— @papamurphys (@papamurphys) October 8, 2020
CM: What are the brand's marketing goals in the coming year? What do have you have coming up?
KM: We are revving up our innovation pipeline to ensure that we are introducing new products at least four times a year. It can be pizzas or other types of take 'n' bake items. But also having a full, robust promotional calendar is important. This was the first year we've done that in many years. I just joined the company a year ago and they didn't have a full marketing annual plan.
Then, it's having the underlay of great activation programs. We're in the middle of a tail-baking promotion as well. We didn't know what sports were going to look like this fall, but we knew we played well with them. No matter if more people are watching from home; we are bringing pizzas to people's front doors. We're in 10 different cities, dropping off fresh pizzas ready to be put in the oven, to bring brand awareness and trial to our products. That will continue next year as well.
CM: What are the trends that marketers should be paying attention to right now?
KM: The changing social media aspect. Because you can be agile and turn on a dime with social, make sure that it is a foundational tactic in your overall marketing plan. But make it right. There are so many different social channels, but the ability—and we found this with the pandemic—to be able to get a message out there to show you care, whatever the case may be, you need to use it to your advantage.
With franchising and regionality of brands, one size doesn't fit all. Social allows you to be able to segment your customers. You need to be smart about making sure you're not showing a winter background if you have stores in Arizona. Make sure that you're pinpointing and targeting, because in today's day and age and the tools that we have available, you don't have an excuse if you're not being really smart about your audience.