Olive Garden Has Loyalists in a Frenzy Over Lifetime Pasta Passes
Olive Garden is spicing up one of its most popular promotions.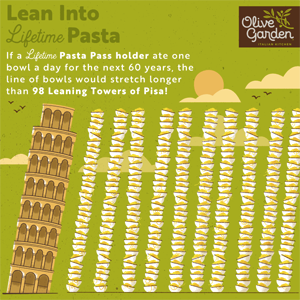 It is introducing the Lifetime Pasta Pass for the first time, an upgrade to its Never Ending Pasta Pass. The new pass gets the owner a lifetime of unlimited servings of pastas, homemade sauces and toppings along with unlimited soup or salad and breadsticks. Fifty lifetime passes will go on sale for $500 each Aug. 15 at 2 pm ET for 30 minutes or until they sell out.
Also up for grabs that day will be 24,000 Never Ending Pasta Passes, a promotion introduced five years ago, for $100 each. Those passes come with the benefit of nine weeks of access to foods between Sept. 23 and Nov. 24, a typically slow time for Olive Garden.
As an added incentive, the first 50 people to purchase a Never Ending Pasta pass and opt-in can upgrade to the Lifetime Pass for an additional $400.
In anticipation of a rush to buy the passes, an online waiting room opens at 1:55 pm.
"If you used your Olive Garden Lifetime Pasta Pass to order one bowl a day for the next 60 years, each bowl would cost less than three cents," the company said.
---
Other articles you might enjoy:
---
Olive Garden turned to social media to announce the return of Pasta Pass through an interactive photo full of riddles for its most loyal guests. A variety of clues were hidden related to what Pasta Pass would be this year and clues that hinted at the big news.
Consumers love endless promotions, but they can also cause trouble for the brand.
American Airlines tried a similar move with its AAirpass, selling free flights for life back in the early 1980s. One man racked up 10,000 flights, costing the airline millions. The promotion ended in litigation and acrimony, the Wall Street Journal reported.