In B2B Direct Mail, Be Relevant, Creative and Timely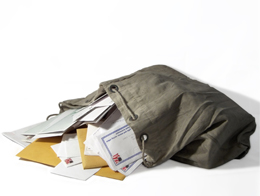 Want to get your business-to-business prospect's attention? Done the right way, good old-fashioned direct mail can be a key part of your strategy.
Chief Marketer talked with Michele Fitzpatrick, vice president, consulting at Harte Hanks and Kevin Kerner, CEO and founder of Mighty & True and managing director of Mason Zimbler US, for ideas on incorporating direct mail into a B2B multichannel marketing strategy.
1. Make it meaningful.
If you want to get your audience's attention, your communications must be relevant to their needs at the very moment they get them.
Today, consumers have access to everything 24/7, notes Fitzpatrick. This has impacted the way email marketers approach how they position their messaging, making their design accessible on a multitude of devices and scheduling delivery time for optimal opens and clickthroughs.
These changes to email have filtered through to direct mail as well, she notes. Just as they expect increased relevancy and timeliness with electronic mail, so too do they expect the paper mail they receive to be meaningful to their particular needs, particularly if there's an existing business relationship.
2. Mail is only one part of a multichannel strategy.
"Broad scale campaigns still have their place, but if I'm [currently] your customer, mail has to be relevant," she says, adding that the ability to connect with a customer effectively in multiple channels can often double or triple revenue. "If you're not thinking about the role of mail in that context, you're missing an opportunity."
Consider carefully where mail can fit into your multichannel strategy, says Kerner.
For example, an email teaser might be sent first, alerting the recipient that a direct mail piece is coming their way with more information. The mailing has a URL directing them to a dedicated landing page with a detailed offer, and an invitation to set up an appointment with a sales person.
Kerner notes that one client included a case for a mobile device in the mailer. When the prospect set up an appointment, the sale person then brought the device (loaded with an app showcasing the company's services) to them at the meeting. There were numerous ways to track the ROI of the campaign, including clicks through to the website from the initial email, traffic to the dedicated landing page, number of appointments made and of course, sales that resulted from the in-person appointment.
---
More on Direct Mail:
---
3. Always start with your audience first.
Your target audience should be your first thought when crafting a direct mail campaign, says Fitzpatrick.
"Channel, offer, product, timing—these are all byproducts of who you are trying to reach," she says. "Audience should be 50% of the weight of the campaign's [approach].
The role of direct mail will change depending on where the consumer is in their buying cycle, adds Fitzpatrick. "They may need a piece of physical mail to really understand [the product]. It can help them compare features and support the buying process."
4. Understand what you can spend to get the ROI you need.
"Direct mail is a bit of an underused asset, particularly in B2B, and if used correctly, it can be a really effective tactic," says Kerner. "But you have to know what you can spend to acquire a customer."
Because direct mail costs more than some other marketing techniques, marketers must have a clear handle on what they can afford to profitably prospect for new business.
"What's the cost per acquisition? Can you afford to use mail?" Kerner says. "We want to see clients use that cost model before they use direct mail for outreach."
"Direct mail can be effective at all stages of the sales funnel, from the beginning to late in the buying stage and then after the sale," he adds. "It just isn't for lead generation at the top of the funnel."
Many mailers respond to increases in paper and postage by decreasing volume, but that doesn't necessarily decrease the value of a direct mail campaign if you target properly, notes Fitzpatrick. "You could be mailing lower volumes at a higher cost per piece, but get a higher return."
5. Consider going big in B2B direct mail.
Simple mail packages done the right way can work wonders. But if your prospect has a lot of competition for their time and attention, consider dimensional mailings.
In pharmaceuticals, for example, direct mail is still often used to reach doctors and other healthcare professionals, because they're very protective of their email inbox, says Fitzpatrick.
"For a time, dimensional mail went out of fashion with the advent of digital," says Kerner. "But because dimensional mail is high impact, if you want to get a person to respond and pull them online, this can be a great way to do it."
This article was originally published in 2012, and is frequently updated.
---
You May Also Like:
---