Catch 'em While They're Hot—Seal the Deal with Video
Sixty-five percent of buyers conduct research before deciding to make a purchase. The key is to catch them during that all-important decision-making process to drive leads and seal the deal.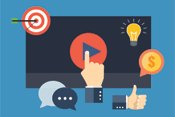 Over the last five years, the role of B2B marketing has been flipped on its head. It used to be that marketing drove awareness while sales followed up during the consideration, evaluation and purchase cycles. Now, marketing drives awareness, consideration and evaluation with sales taking on the purchase.
Webinars can play a key role in the top three cycles today, where in the past webinars were typically used just during the awareness cycle. There are four key benefits to using webinars to seal the deal:
• Captive audience
• Use multiple content types
• Provide direct audience engagement
• Allow for the integration of calls-to-action
There are numerous types of webinars and content that can be used including, for example, a Q&A session with a product manager, polling, social integration, idea sharing, case studies, lead nurturing, retargeting and chats. Webinars as a marketing tool can catch prospects and customers during the final purchase journey, just when efforts to reel them in can be the toughest.
Learn best practices and tips for creating webinars that move prospects to a sale during the "How to Use Webinars to Close Business" live online educational session. Join us Nov. 2 at 2 PM to view this session presented by On24, an expert in webcasting and virtual events, and Chief Marketer.