Playboy Strips Back to the Brand's Roots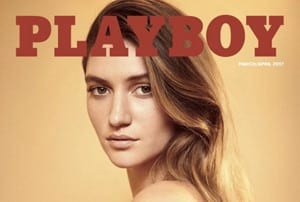 Everything old is nude again: After a year of covering up, Playboy will resume running nude photos.
The legendary "Entertainment for Men" publication is also dropping that manly tagline when it resumes running nudity with the March/April issue.
"Playboy will always be a lifestyle brand focused on men's interests," said Cooper Hefner, chief creative officer and son of company founder Hugh Hefner in a statement. "but as gender roles continue to evolve in society, so will we."
It's a move that makes sense, and is true to Playboy's traditional brand while moving it closer to the ideals of a younger generation. Hefner himself expressed dismay at the change in an interview last year.
"When you have a company, and the founder is responsible for kickstarting the sexual revolution, and than you pluck out that aspect of the company's DNA by removing the nudity, it makes a lot of people, including me, sit and say, 'What the hell is the company doing?" he told Business Insider.
Whether you read Playboy for the articles or like to look at the pretty pictures (it's okay, we won't judge), you have to admit that Playboy's new "Naked is Normal" approach is true to the brand's core appeal, and feels more authentic than the more chaste approach.
After all, as Sarah Clark wrote in a Chief Marketer article last spring, authenticity isn't about telling (or in this case, showing) people what they want to hear. It's about being honest.
"Embrace your true identity," Clark wrote. "Even the best marketing strategies won't secure a brand's reputation: The company must prove its authenticity. This is no easy feat, considering that authenticity changes over time: What makes sense to a company that's first starting out may not work for a company that has been in business for years."
For a 64-year-old brand like Playboy, this is good advice.
Related Articles:
 The Art of Authenticity in Branding
7 Reasons Brands Fall Short in Fulfilling Promises
Remembering Herschell Gordon Lewis