Remembering Herschell Gordon Lewis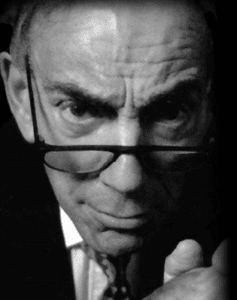 I was very sad today to learn of the passing of Herschell Gordon Lewis at age 87.
Google his name and you'll read of his exploits as the "Godfather of Gore," the infamous director of low budget horror cult classic movies like "Blood Feast" and "Two Thousand Maniacs."
But those of us in marketing know him for his copywriting genius. He wrote numerous books on the topic, including "The Art of Writing Copy," an apt title because he truly did consider it an art. He had no patience for lazy or uncreative copy and wasn't shy about sharing his opinions on the subject. Because of this, his rollicking, often hilarious sessions at Direct Marketing Association conferences were always standing room only.
I had the pleasure of getting to know Herschell as one of the editors of his "Curmudgeon at Large" column in Direct. It was, without a doubt, the most popular feature in the magazine. I can't tell you how many times a reader said to me excitedly "Oh! Herschell Gordon Lewis! Do you know about his other career?" I'd smile and say, yes, we were well aware about his colorful, bloody past. As serious as he was about marketing, he never shied away from chatting about his movie career, proud of his accomplishments in that realm.
(For a small sampling of Herschell's columns in Direct and Multichannel Merchant, click here.)
It was always a treat to run into Herschell at an industry event. To say he was charming and larger than life is a huge understatement. He was a shameless flirt, and this editor (nearly 40 years his junior) was always amused by his hijinks.
One of my favorite encounters with him was at a Catalog Conference many years ago. He had just given a luncheon keynote address, and had a throng of admirers gathered around him, including a VP from my own organization.
I waited off to the side patiently, planning to say hello after he was through holding court. He spotted me out of the corner of his eye and waved me over, shouting "Beth, darling, sweetheart, get over here!" He wrapped his arms around me and gave me a kiss on the cheek and then announced to the crowd "This woman and I have been having an affair for 30 years!"
I burst out laughing and said "Ssssssssh! It's our secret." (My reaction was probably much to the relief of my VP—the color had drained out of his face, as I imagined he probably wondered if there would soon be a lawsuit pending. )
Herschell, of course, was devoted to his lovely wife Margot, his business partner and constant companion. Every time I ran into them, they shared new stories of their world travels, and I always hoped I would have that much zest for adventure when I got to his age.
Tonight I'll be raising a toast to Herschell. I know that today heaven is a much more lively place, and I expect that he's already casting a very unconventional film for the cinemas of the great beyond—with the most amazing promotional copy one can imagine.