Pixar's Secrets of Storytelling Success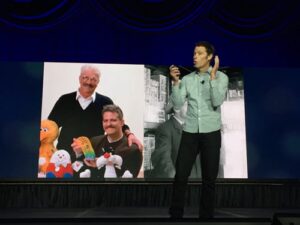 If you want to harness the power of storytelling in marketing, don't be afraid to get emotional.
"A great story leaves people with a feeling," says Matthew Luhn, a storytelling and branding consultant who spent over 20 years with Pixar. "Explain the problem, describe how you solved it and get excited about the success it produced."
Luhn's father dreamed of being a Disney animator, but had to work in the family business—San Francisco's Jeffrey's Toys—so he passed along that dream to his son. He attended the California Institute of the Arts, and ended up leaving school at age 19, to become the youngest animator to work on "The Simpsons."
In the writing room there, he worked with a variety of different individuals but they all had one thing in common, says Luhn, who spoke at Play 2018 in Boston this week. "They knew how to tell a story."
---
More on Storytelling:
---
From there, he went to work at Pixar and became one of the first 12 animators to work on "Toy Story." It felt like a risk to many, because there was a lot of doubt people would want to watch any computer animated film, let alone one without princes and princesses. The risk paid off: In 1995, "Toy Story" was the highest grossing movie of the year.
Over the next 20 years, he worked on a vary of Pixar films as an animator and story consultant.
He learned the impact of a great story. "When you end up triggering people's emotions correctly, they want to engage with you," he says. "It all starts with a great story."
How do you make that happen? It all starts with a hook.
"You need to grab people's attention in the first eight seconds or you've lost,"  says Luhn, who has a new book coming out later this year, "The Best Story Wins: How to Leverage Pixar Style Storytelling in Business and Beyond."
There should be something unusual or unexpected. The eight second pitch for "The Incredibles"? What if superheroes were banned from saving people? The pitch for "Ratatouille"? What if a rat wanted to become a French chef?
Great stories are about transformation, he says. "How do you inspire people to change? Show them how other people changed and were made better."
Stories should also connect to the right audience. There are many universal desires, such as love, safety and freedom that can create emotional impact. Likewise, there are universal fears—failure, abandonment, a sense of not belonging. The "Toy Story" movies, for example, all center around a fear of abandonment.
"Make sure your stories have something you are passionate about," he advises. "Don't be clever, be vulnerable and honest."
That honesty shines through in Pixar films. The idea for "Inside Out"—where a young girl's emotions are personified—came from an animator who noticed the changes in his own daughter's personality as she grew up.