Are McDonald's Execs Flame-Broiling Burgers?
Fans of Burger King know its burgers are flame broiled, and that's what they like. They also know BK's competitor, McDonald's, grills its burgers on an electric griddle, and that's what they don't like.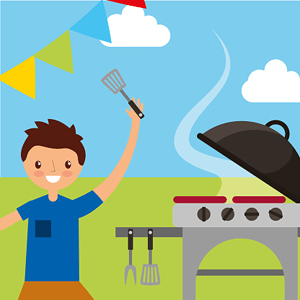 BK thinks it has an edge on McDonald's because of its cooking method for burgers. And it attempts to use that edge every chance it gets. The latest is a series of print ads that purport to show BBQ grills in the backyards of homes of former McDonald's execs. The message: Burger King's burgers are better than McDonald's because they are grilled over open flames instead of fried—and McDonald's executives must think so too.
The campaign, "McMansions," is sure to get a close look by McDonald's. BK doesn't explain what makes it think the grills are actually the property of the previous McDonald's presidents, directors and COOs, and not the current owners. However, Burger King did say: "It's funny, because it's true." (Check out the image in USA Today).
The ads start running on Wednesday, in the New York Daily News, the Chicago Sun-Times—McDonald's hometown—and a few select other newspapers around the country.
The battle for customers between these two behemoths is ongoing. Earlier this year, Burger King debuted the Double Quarter Pound King Sandwich, clearly a direct competitor to McDonald's Double Quarter Pounder. And in October, a Halloween ad portrayed Ronald McDonald as a scary clown, a throw back to the prior October when Ronald McDonald, was forced into hiding after a rash of creepy clowns made national news after terrorizing children across the country, including at least one child who was chased by a clown with a knife.
And the battle continues.
Related articles: