Audi Offers "Test Drive to the Unknown"
Customers shopping at Amazon Go's checkout free store in Seattle got more than just beverages and lunches. Audi was there earlier this month, offering test drives for its new 2019 Audi A6.
The test drives came with a surprising twist—drivers had no idea where they were going and the destination depended on how much free time the person was willing to share with the brand, Motor1.com reported.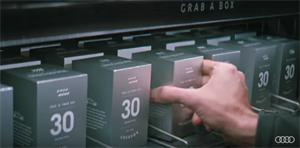 The "Test Drive to the Unknown" began when shoppers picked up a "key box" in the store. The 30-minute journeys took drivers to unique destinations like professional photos shoots, private symphonies, secret tastings and helicopter rides. Drivers were then asked if they would like to continue their trip to the unknown. Most agreed and were then taken on a 3-hour ride. More than 100 drivers got behind the wheel.
One customer got more than just a drive, they won a five-day adventure in Munich to visit Audi's headquarters and test-drive the Audi A6 on the German Autobahn, among other experiences.
---
Other articles you might enjoy:
---
"As a brand rooted in innovation and pushing boundaries, we at Audi wanted to break category paradigms for what a test drive could be," Loren Angelo, vice president, marketing, Audi of America, said. "Locating our test drive at Amazon Go allowed us to experiment with a new kind of retail environment while transforming the test drive into an adventure. In doing so, customers were able to have a one-of-a-kind experience and make a car purchasing decision at a time and place that may be more convenient to them."