What Your Customer Lifecycle Should Have in Common with the Four Seasons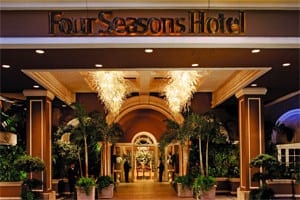 What does your customer lifecycle have in common with a four-star resort? If you're lucky, quite a bit.
Inspiration can come from the strangest places. Sometimes we see it in nature. Other times, we find it in conversation, in books or in art. Curiously, I recently found inspiration for my company, and companies like mine, during my annual family vacation.
Sure, the sunshine and relaxation contributed to my renewed perspective on business, but I'm still surprised to say that it was something else that set my mental gears in motion: our hotel, namely, The Four Seasons' incredible focus on delivering a top-quality customer experiences.
It was also the sheer business savvy –– and focus on the customer –– that I saw at work throughout the entire process of learning about the resort, booking my stay there, taking advantage of the accommodations, and smoothly heading out into my next adventure. At every step of my vacation, or what marketers would call my customer journey with The Four Seasons, I felt like they were a partner to me, genuinely interested not just in giving my family a place to stay but also in making memorable experiences.
This got me thinking: These same ideas can be applied to software companies, which similarly attempt to position themselves as partners genuinely invested in the success and satisfaction  of their customers. Here's what your company can learn from the Four Seasons.
Know Your Customer to Craft a Great "Onboarding Experience"

It isn't necessarily the physical characteristics of The Four Seasons hotel that set it apart. After all, most hotels –– particularly in the luxury space –– share a number of key elements in common. For software companies, the same can be said for innovation and product features,  necessary for success—but the secret is in how it is used to solve customer problems.
Instead, what separates The Four Seasons from much of its competition is the hotel chain's genuine commitment to building positive experiences for their customers that are likely to make a lasting impression. From search, to discovery, to arrival and well beyond, The Four Seasons kept my family's priorities in mind and regularly sought to provide us with options that would enhance the experience we'd come to have.
Software companies can take this lesson and apply it to the discovery, pre-sales and onboarding process: Know what your customers needs and what they are trying to solve. Then make sure  to address those customer needs. Simply put, don't push the steak to a vegetarian.
Design for Curiosity and Discovery

The staff at the Four Seasons could not have managed this without doing what I think every good business should do: Ask questions and practice real curiosity about their guests. Rather than letting us book the room and leaving us to our devices with no further intervention, the staff at The Four Seasons asked as early as the first call what brought us to their hotel. In this case: a birthday and a relaxing annual family vacation. Having captured that information, the staff developed itineraries likely to please our family and, one night, even brought a compliment treat of milk and cookies to our suite to help us celebrate my son's birthday. That's white glove service. And it's just common sense—we weren't interested in a spring break bash-styled party.
Did the employees at The Four Seasons just so happen to like me and my family more than anybody else? Maybe, but it seems more likely to me that these employees took ownership of the experience they were developing for me. That ownership enabled by The Four Seasons empowered them to make choices, starting with their inquiry after the nature of my trip. The ownership manifested itself time and time again, as employees took what they knew about our priorities and guided us from one family-friendly, memorable experience to the next.
Tech companies should take note: it's not just the immediate solutions you offer that help you to make sales and retain customers in the long term. It's also your genuine curiosity and concern about the customer's needs, wants and pain points. When you keep aware of such things and work to address them without being prompted by the customer, you're essentially saying, "I am a real partner to you. I'm here to help you, every step of the way."
Build Loyalty With a Structure that Empowers your Employees

In a world where loyalty marketing continues to be ubiquitous, it might come as a surprise to some readers that that The Four Seasons notably lacks a loyalty program of any kind. While it might seem to some that the resort chain is, like other big brands (McDonald's strangely comes to mind), waiting the loyalty game out to find what works best, I think there's something more to this business decision.
Think about this: if The Four Seasons brand is built on forging strong, customer experience focused relationships with its broad clientele, and if they practice segmentation through organic, curiosity-based interactions that take place between their staff and clients, then what need do they have for a loyalty program? Customers don't have to add up perks as an incentive to return to The Four Seasons' many hotels. Their incentive is that they know they'll be given the VIP treatment –– whatever that means to them –– every time they visit.
Even better, this is true for every customer, not just a segmented few.
Software companies can take a similar approach in building relationships with their customers, both individually and at large. The ones that want long-term successful and happy customers need to build a structure that supports such success. Structure supports the employee so they can do their very best work, and makes it possible to scale and train employees in times of growth. Structure helps employees discover what is important to customers and allows them to deliver to the customers –– genuinely committing themselves as partners to the success of the customer.
Emotional connections are among the most important factors for long-term satisfaction with a brand throughout the customer lifecycle, and your company can create such connections by personalizing sales, service and marketing events with a humanizing touch. While a client might not always remember the way you helped them in exact terms, they'll always recall how you made them feel. Make them feel good.
Creating True Customer Advocates

How did I end up choosing The Four Seasons over other accommodations? Well, someone the brand clearly impressed –– who I knew and trusted –– recommended their hotel to me.
Imagine the power of treating every customer so well that they themselves become brand ambassadors and advocates.  Some call it Flipping the Funnel – having customers market for you and your brand. These ambassadors feel compelled to speak in laudatory terms about the location, the service, the amenities –– giving a trusted word-of-mouth testimony to people over which they have some influence as friends, family or colleagues. This sort of testimony is more impactful than any ad or loyalty gimmick The Four Seasons could ever come up with, because people trust their friends more than ads. Inevitably, The Four Seasons can attract more customers through word-of-mouth marketing –– like yours truly.
Building a customer-obsessed organization and successful customer lifecycle is no small feat.  It's an ongoing process that requires coordination from every department. I think that technology firms in particular can benefit from thinking about customer loyalty in the same way as The Four Seasons. Whether you're sending a sales email, following up with a lead, or checking in with an old customer, offering real value in every interaction is critical to customer retention. And offering real value means understanding the customer and their needs.
When you offer real value to your customers time and time again, you build a relationship with them that will keep them coming back more than any gimmick you can imagine. And when you consistently impress your audience over the course of the customer lifecycle you can guarantee that their friends and colleagues are going to hear about it.
Kevin Bobowski is the senior vice president of marketing at BrightEdge.
Related Articles:
Are You Profiling Your Customers?
Be Human: 10 Email Marketing Tips
John Wiley's Next Chapter Includes Improved Customer Data