Jack Morton's Bruce Henderson on 2016 Hits and What's Up for 2017
At this time of year, it's nice to take stock on a few key subjects that truly affected marketers in 2016—and—what to be on the lookout for in 2017.
Chief Marketer chatted with Bruce Henderson, chief creative officer at global experience agency Jack Morton Worldwide, to get his take on marketing concerns, budgets and the big marketing story of 2016, among other topics.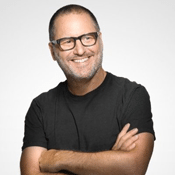 At Jack, Henderson charts the agency's creative vision and chairs its global Creative Council, comprised of executive creative directors and senior strategists from across the world. He has also worked as CCO North America at Geometry Global and guided the merger of G2, OgilvyAction and JWTAction creative departments to form Geometry. His creative work has won numerous awards—Clio, Effie, Addy, Webby.
Chief Marketer: What are your biggest marketing concerns for 2017?
Henderson: Our agency is doing well, and the share of marketing dollars commanded by brand experience continues to grow at a rapid pace. So my biggest concern is the global economy and the impact a recession could have on our industry.
CM: What will be your biggest marketing investment for 2017?
Henderson: Talent. Most agencies of any given type do pretty much the same thing; some just do it a whole lot better. What differentiates those agencies is the quality of their people.
CM: What was the biggest marketing story of 2016?
Henderson: In terms of overall effect on marketers, agencies and media companies, I think ultimately it will turn out to be the accelerating decline of live TV viewership. This decline is going to have a profound and lasting effect on how products are marketed, how media is bought and how content is funded.
CM: What's the brand to watch in 2017?
Henderson: Google. It will be interesting to see if their latest foray into hardware will help unseat Apple as the world's most valuable brand.
CM: What was your personal favorite campaign of 2016?
Henderson: DB Export "Brewtroleum." The brand worked to turn waste from the brewing process into a biofuel. It then sold the fuel in stations and created a campaign that urged people to drink more beer to "Save The Entire World." It was good for the brand, and good for the world.
Watch the "Brewtroleum" video: