Successfully Navigating a Rebrand
There comes a time in every brand's legacy when the questions arise: should we refresh our brand identity? Are we visually current enough? Does our visual identify accurately reflect who we are today and position us for the future?
No matter how well-established the brand, visual updates are part of a brand's healthy life cycle. Even Mickey Mouse has been tweaked and modernized by Disney since he first appeared in 1928. No matter the industry, smart marketers know visual updates should be an important part of a proactive, strategic planning process because it's important to keep your brand relevant to your core target at all times.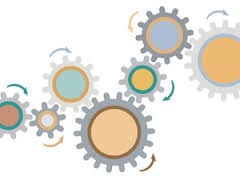 Here are a few tips and tricks to keep in mind when undergoing a rebrand.
Keep strategic goals in mind. Before the rebrand process begins, make sure to ask: will this help advance the business? Does this fall in line with our business goals? If it doesn't, it's not the right move. For ERA's reimaging campaign, we began the conversation at the strategic level and have been keeping that focus the whole way through.
Case Study – Airbnb: Recently, Airbnb unveiled a new brand logo and overhauled its interface for an improved user experience. The logo was dubbed "Bélo," meant to symbolize belonging and to help catapult Airbnb into the international hospitality industry. Though chatter about its new, curvy logo was mixed, Airbnb's rebrand came from a strategic place as well as aligning well with its brand persona, and thus, made sense for its brand.
Execute from the Ground Up. Singing from the mountain top is great, but change truly happens in the hills and valleys. For that very reason, focusing on the street-view and identifying the building blocks necessary to effect change allows sky-scraper strategies to be seamlessly executed by those with their feet on the street. Outlined in the classic book "Execution: The Discipline of Getting Things Done," this has been a core business approach of mine for years.
It's vital that though the ultimate decisions are often made in C-suites, the excitement and passion about the rebranding transition doesn't remain siloed there. All areas of the organization – from the corporate office to franchises to front desks and beyond – should feel confident about the reimage so they can pass on new messaging about it to the audiences they interact with (be it sales representatives, suppliers, partners or consumers).
Keep what's necessary – and take away what isn't, visually speaking. When it comes to your brand's logo, it's important to think about it in a frame of "updating" versus "overhauling" – unless your rebrand aims to take your brand in a completely different direction. Ultimately, it's about keeping your core visual cue to ensure your audiences still associate your new logo with your brand, and updating as necessary, without alienating consumers.
In our recent ERA rebrand, for example, our new logo includes an updated version of our iconic roof symbol that we've had for over 40 years. We kept the red roof but removed the home itself, keeping the hint of what people know is core to our business but in a modern way. We approached the new identity as an evolution, rather than a revolution. Here are two case studies that illustrate the difference.
Case Study – Tropicana: In early 2009, Pepsico's Tropicana brand looked to update its classic orange juice carton. Yet in an effort to modernize the brand, Tropicana removed its key image: the big orange with a straw in it. Without this visual cue, consumers couldn't find their beloved juice brand on the shelves, and even mistook it for the store brand. As such, Pepsico reverted to its old carton after only one month (Business Insider).
Case Study – Starbucks: Conversely, Starbucks' rebrand in 2011 was a job well-done. Removing the "Starbucks Coffee" wording from its green mermaid logo streamlined and modernized the easily-recognizable brand. It helped redirect the brand from solely being a coffee retailer and also took away unnecessary wording; people recognize it without needing to read the words.
Keep Your Fans in the Loop. It's critical to not only announce your new image and introduce it to your consumers, but to tell them what's new about the brand. Understanding the "why" helps to forge connections with consumers and also provides the perfect opportunity to communicate your value proposition.
Case Study – Gap: In 2010, Gap quietly introduced a new logo that was drastically different than its well-known navy square logo. The clothing retailer simply switched the logo on gap.com without any announcement or explanation of the change. The result? Confused fans. Consumers took to social media to complain, and as a result, Gap changed its logo back within just one week (Huffington Post).
Introducing a new brand image is an important – and challenging – process. The companies that do it most successfully keep their visual cues, introduce the changes and retain iconic pieces of the brand. Don't forget to embrace the details and think about the "how" of when it all comes together. By critically thinking and planning throughout your organization, you'll set yourself up for success.
Chris Trick is senior vice president of marketing and product development, ERA Real Estate.