How To Spot Un-Authentic Influencer Content
With the focus on influencers and the proliferation of sponsored content, authenticity has never been more important. All too often the focus is on micro versus power middle influencer selections, the number of followers, or the reach of individual influencers. However, one of the most critical aspects of influencer selection is authenticity.
Authenticity is important and goes hand-in-hand with providing to the audience for influencers to maintain both their own credibility and the credibility that brands look to leverage from their relationships with influencers.
What makes for authenticity when a brand or retailer is paying for content? This is a tricky area since any time an influencer receives payment audiences sometimes perceive it as potential shill. But,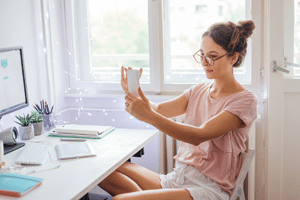 So, what are the signs of un-authentic influencer content?
1. There's no emotion in the content or story
Brands must select to work with influencers who have shown a passion for the previous brands they've worked with. But, be careful to identify signs of disingenuous vs. genuine passion. Are they highlighting aspects of the brand that show surprise and delight? Brands will not benefit from influencers simply reciting the USPs and product benefits. They need influencers to relate products to their life, and show how audiences will also personally benefit.
2. There's no creativity to the story
Nothing shows authenticity and passion more than creativity. Influencers who take the time to roll up their sleeves and put creativity/work into their content give visibility to their passion for a brand. The best influencers do their homework, look at trends, and sometimes strike gold coming up with new usage occasions and interesting ways to show off a product.
3. There's no personalization of the content
The best influencers will personalize their content with life stories and relate the product through interesting tales of discovery.
One of our Social Fabric influencers, Kristi Dominguez of I Should Be Mopping The Floor said, "Most of my posts are project-based. It can be easy to get lost in a directionally specific tone of voice that sounds like an instruction manual. I always try to relate to each post on a personal level—and give instructions in more of a personal manner, like having a conversation with a friend. Keeping it professional is still a big deal to me, but personal is also equally important."
4. The influencer's posts are jammed with sponsored content that isn't great 
This is a huge warning sign to run the other direction. The mere number of sponsored posts tells you the influencer is in it for the money. The best influencers know there is a delicate balance to their content mix. Brands will need to dig into the influencers' content and if it's highly useful, it will offset the fact it's sponsored. The emphasis has to be on quality content.
"I try to balance it with about 30 percent sponsored content only each month. My philosophy is that I am a brand in and of itself—if I'm always someone else's brand ambassador, I can't be my own brand ambassador. I'm also fairly selective about sponsored posts and only work with brands that truly fit my niche and authenticity," Dominguez says.
5. There's no original images in their content
Stock photography and using brand-supplied images is the equivalent of phoning it in. Brands will want to engage with influencers who take the time to create original content. Or at the very least, the majority of their content is original images. Supplied product images are a no-no. Influencers should weave the product into their original content and show it in context to the story they are telling.
"I am okay with one supplied image or coupon, as long as it fits my look. I had a recent sponsor supply a very grainy, tiny image to use. I am strict about my photo's sizes and resolution and I went back and forth with this brand over this, and ultimately lost the battle," Dominguez says. "It wasn't the worst thing ever, but it makes me think twice about ever working with them again."
6. Too many requirements will affect authenticity
Some clients want to clutter an influencer's content with prescribed content and/or trademarks galore. Inserting prescribed content will stick out like a sore thumb and you can be sure the influencer's audiences will be the first to question what the influencer is doing.
"I tend to shy away from campaigns and brands that require so many hoops to jump through; that takes away from the post's authenticity and my readers see right through it (and call me out on it in the comments—every time!)," Dominquez adds.
7. Finally, do the homework on your influencer's background
Look at the number of sponsored content areas they write about. Too many areas are a signal. In fact, there have been examples of influencers touting baby products who have no children. This would be a major red flag for brands. Influencers typically pick one-to-two areas they want be known for unless they are lifestyle generalists. Even still too many topics again is a potential signal they might just be a gun for hire.
Remember this sage advice straight from an influencer, "I love it when brands take the time to know me—the blogger behind my own brand. I have several brands that call me by name when I interact with them on social media and that goes a long way."
Holly Pavlika is SVP, marketing and content at Collective Bias. She can be reached at [email protected].
Related articles:
The Best of 2018 Influencer Marketing Trends
What Micro-Influencers Can Do For You