What Micro-Influencers Can Do For You
Micro-influencer—what's that? Along with influencer marketing, micro-influencer is the term all modern marketers have added to their repertoire.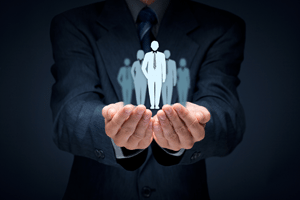 Nevertheless, what does micro-influencer mean and how can brands benefit? Though there isn't a standard definition for the term (yet), I like how Forbes defines it, "More and more, brands are turning to people with far fewer numbers and followers—sometimes even as low as 8,000—to help them share their messages."
Interestingly, 67% of marketers struggle most with finding relevant influencers, according to a TapInfluence and Altimeter study. On top of that, how do you find the right micro-influencer to represent your brand? Ahhh!
We'll there's a logical answer to that. The simple answer is, if there's alignment between the influencer's audience and the brand's audience and you have data that suggests a high degree of relevance, you're good. We've modeled this in what I like to call, "Pyramid of Influence."
Naturally, marketers often gravitate to the top of the pyramid, that's where celebrities live, like Beyonce or Lady Gaga. At the bottom, you have brand evangelists, typically, though, these people write reviews and provide ratings, but don't have a significant level of influence except in their aggregate.
The missed opportunity is in the power middle and that's exactly where you'll find your micro-influencers. The best analogy is thinking about an SEO or SEM strategy. Celebrities sit at the top of the pyramid, that's similar to bidding on very competitive and often expensive keywords. Whereas, micro-influencers understand the pain-points and the questions people are asking, so going back to the SEO and SEM analogy, micro-influencers are like your long-tail keywords. Similarly, micro-influencers and longtail keywords are powerful because it's arguably where you'll find the most purchase intent with your intended audience.
So why micro-influencers? Here's some food for thought:
1. Authenticity Influencer marketing outperforms traditional digital advertising by 11X because consumers would rather hear from real people than brands. That's advertising. As influencer marketing becomes more prevalent, consumers will continue to crave connection to more authentic experiences that only these influencers can deliver.
2. Millennials By 2020, Millennials will total more than $1.4 trillion in spending power. Millennial buyers are digital first, socially savvy and seek content personalized to their age, location and cultural interests.
3. Supply Even if celebrities and macro-influencers with massive followings were able to provide the intimacy that the close-knit communities of micro-influencers do, there simply aren't enough of them. Micro-influencers are the biggest influencer category and cover millions of blogs, and YouTube has become saturated with popular vloggers making influencer marketing accessible to the masses.
So do micro-influencers really benefit brands? The effectiveness of micro-influencers comes down to engagement and value. Micro-influencers often have a niche focus and a niche group of followers. They are also much more active than their peers—compared to average consumers, micro-influencers hold 22.2 times more conversations per week.
It's obviously important to monitor engagement. Celebrities have very significant followings and this weighs cost against what they can actually produce in engagement and, ultimately, sales. For example, a brand who paid Kim Kardashian to tweet saw her 15 million followers drive 1,200 website visits and it resulted in only 30 orders averaging $30 each. Those numbers are awful, but the related Cost Per Engagement (CPE) is equally terrible. Engagement, not reach, is one of the most important metrics.
There is so much to consider when choosing micro-influencers for a marketing campaign: utilize an influencer marketing platform, use an influencer search engine and find the right influencer profiles. Pay attention to the audience data and performance data to help you find the perfect fit. Again, the most important advice to remember is that the micro-influencer audience and brand audience must align to see ROI.
As you get started with micro-influencers, keep these points mind:
• Engage 10 highly focused influencers, each with 10,000 followers, rather than a single influencer, with a diluted, varied audience of 100,000
• Use celebrity influencers strategically, for example working with celebrities to generate awareness and activate micro-influencers
• Take advantage of white space in your sector; influencers are currently underused by luxury brands, although their audiences take their "words as gospel, and this can translate directly to substantial profit for the luxury sector"
• Remember to look at CPE when evaluating value; micro-influencers will not always have lower rates than macro-influencers, however, they bring something different to the table
Promise Phelon is CEO at TapInfluence. 
This article was first published in March 2017 and has been updated regularly.
Related articles:
How to Leverage Influencer Video to be Most Effective for Your Brand