Sparkling Ice Finds New Success in Segmenting Consumers
Sparkling Ice, that fizzy, fruity, no-calorie beverage, started mining highly specific target consumer groups last year that it then began messaging with personalized content.
"Gone are the days that we assume the Sparkling Ice consumer all looks the same," says Sarah Gustat, vp marketing at parent Talking Rain Beverage Co. "It's a multi-faceted large group of fans and we wanted to have authentic conversations with these various consumer groups."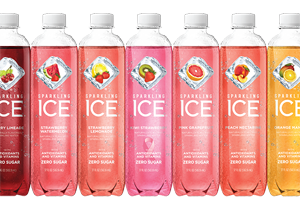 With help from Epsilon, shopper behavior and basket analysis helped understand and identify different segments of consumers looking for zero calorie, better for you options.
"Some of it is testing and learning, but a lot of it is looking at shopper behavior and really understanding when a consumer purchases Sparkling Ice what are some of the other brands that they're purchasing," she says. "We can look at search behavior and really look at when a consumer is online what other areas of search are they engaging in and that helps us create these profiles of consumers."
Specific profiles began to emerge, like people participating in weight management or diets like the low-carb, high-fat Keto diet, or are perhaps pre-diabetic or diabetic.
"These are very nuanced groups and how to effectively communicate to each one of them is a little bit different based on their dietary needs or interests," she says. "Those nuanced approaches have been very successful for us. It's a very interesting and authentic way to speak to a consumer based on their interests and not assume that every Sparkling Ice consumer is exactly the same."
One important group for Sparkling Ice is Weight Watchers members.
"A lot of times a Weight Watcher consumer might be purchasing zero calorie, low calorie weight management type products. That becomes that person we would say is someone who is interested in managing their weight," she says.
---
You May Also Enjoy:
---
Once a group like Weight Watchers is defined, the brand engages influencers to help reach the target audience.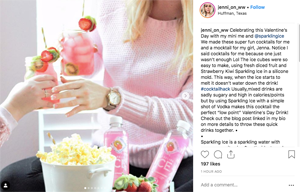 As an example, to get underway with the new marketing strategy last year, the bulk of Weight Watchers influencers were unpaid up until the fall when a more robust partnership strategy was put in place. One paid influencer was activated—@TheShrinkingMomma—who did a series of posts: intro post, giveaway post, recipe post, Instagram slides. This year, that strategy is being ramped up with four paid influencers along with a series of unpaid. The first paid Weight Watchers influencer, @Jenni_on_WW began posting content yesterday, the day before Valentine's Day.
Beyond influencers, marketing includes an integrated strategy, most recently to message out the news that the beverages are now all natural ingredients. There are field marketing teams at events—like the upcoming South by Southwest—and lots of sampling. Through programmatic display buying with Epsilon, banner ads are posted on websites likely frequented by Weight Watchers members or at the Juvenille Diabeties Research Foundation to reach diabetic consumers.
"Based on engagement levels the system just gets smarter so we can say we didn't see engagement on this website, so we'll repurpose those funds and invest more heavily on sites where we're seeing the most engagement. It really is constant learning and we make those tweaks as we go," Gustat says. "The same consumer groups that we go after in social, we're doing the same thing in digital and based on those interests and successes that also refines the events that we're going after as well based on the most engaged consumers and the highest likelihood of interest. We take those learnings and apply those across all of our marketing."