Scion Revs Up: Buzz-worthy Web Content Helps Carmaker Reach New Generation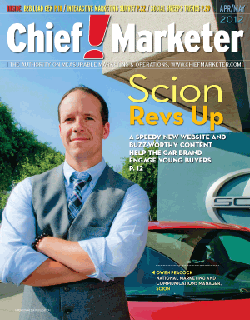 Think of the last car ad you saw—most likely a TV spot. What do you visualize? A vehicle speeding along rain-slick city streets; the elegant couple inside pulling up to a glamorous restaurant, hotel or spa. Or mom or dad with the kids and the dog packing a hockey team's worth of gear into a cargo hold. Or a lone driver grinding through the curves of that familiar stretch of coastal highway in California as a voiceover speed-talks through phrases like "APR financing" and "manufacturer's suggested ERP."
You can recall the clichés. But do you remember the car?
Auto marketing has changed, particularly down at the low-priced end of the spectrum, where marketers are trying to reach young people, possibly first-time buyers. The beauty shot commercials don't work on them in the same way. In fact, commercials often don't work on them because they don't share their parents' attentive TV habits. So manufacturers who want to reach these audiences need to change the old rules and present their models to these customers in the terms, and via the channels, they are most comfortable with: the worlds of the Internet, online video, social networks and mobile devices.
"We are sort of a test lab for Toyota," says Owen Peacock, national marketing and communications manager for Scion. "We have the youngest average buyer among car companies, and we're testing ways to talk to them that may then spread to Toyota."
Launched in 2002 as parent company Toyota's effort to bring young buyers into the fold, Scion basically wrote the book on speaking the language of young buying prospects—or at least its early chapters. The company relied largely on online marketing, guerrilla campaigns and word-of-mouth rather than mass-media buys to promote its cars. Early efforts used outdoor ads and movie trailers to direct interested prospects to a series of websites on the theme of "Want2BeSquare," which played up the boxy look of the earliest models, the xA and xB liftback sedans.
The cars themselves were as nontraditional as their marketing. The earliest Scion models came with one level of trim, keeping the base price low. But buyers were encouraged to customize their rides with a wide range of accessories and design options, and the company has taken to producing some limited editions in colors such as "Hot Lava Orange" and "Envy Green."
That opened up another marketing theme, personalization, that the company played up with campaigns emphasizing hip-hop artists' designs for their cars and, in 2010 a reality program, "Reinvent the Wheels," that got non-car contestants to conceive of and build their customized Scion dream cars.
The brand has also become known as tech-forward in both its design and its marketing. "Reinvent" wasn't shown on TV, but as a six-episode web program on a microsite and on YouTube. Scion cars were also some of the first branded rides to be introduced in virtual worlds such as Second Life and There.com. In 2010, the company created buzz about its new tC Coupe with an augmented reality game that let players print out a steering wheel and use it and their webcams to pilot a car around a digital city.
And last year, Scion and its longtime agency of record, Attik, rolled out an interstitial ad for the iPad version of The Onion, the "Rebate Rally." The game, aimed at recent college grads contending with student loan payments, lets users compete by launching a Scion in "Angry Birds" style to knock down campus buildings. The game promotes the company's $1,000 rebate offer to recent grads who finance a Scion through Toyota Financial Services. A similar rebate is being extended to buyers in the military.

New Cars in New Channels
Those campaigns have been effective at drawing attention, but the road to getting those interested lookers into showrooms for a test drive runs through the main Scion website, www.Scion.com. And until recently, that site was an inhospitable place, dated-looking and less than user-friendly.
"Our target buyers are tech savvy and heavy into mobile use," says Peacock. "This generation doesn't watch as much TV, so we have to find new ways to engage them on- and offline.
"More important," he continues, "they place a premium on time and on getting information quickly and efficiently. We're spending all this time and effort getting them to our website, and when they get there, we want that to be a really good experience. And our old site just wasn't delivering."
Part of the problem was that the old site was built using Flash animation. That meant that the interactive portions of the site—such as galleries and a build-your-own feature crucial to Scion's revenue and image as a highly personalizable car brand—were sluggish and took a long time to load.
But the site problems went further than just loading speeds and extended into the look and feel and nature of the content it could handle.
"The old site was very dark," says Peacock. "It was what I'd call a discovery site, where you needed multiple clicks to get to the information you wanted. You had to explore it on your own, and our customers place a premium on time. We needed a site that would be fast and easy to use."
Scion also needed a site that could scale up quickly to take in new content. A year ago, the company offered only three models. "Now we've launched the Scion iQ, so our content has gone up 25%," Peacock says. "And we've announced a fourth model, the FR-S. So we knew the site had to become flexible, fast."
For those reasons, a year ago Scion and Attik began looking at rebuilding the company's main site using a new, more accommodating web basis: HTML5.
The HTML5 Edge
Hypertext markup language (HTML) is the foundation of all websites. Basically, it's the programming that structures web pages; web browsers read that code and translate its instructions into the images, objects, links and interactive forms that we see and use when we log into a site. HTML has been around since physicist and computer pioneer Tim Berners-Lee first described it more than 20 years ago.
These days we're asking the web to do a lot of things that weren't envisioned two decades ago, from streaming video to translating a page onto the screens of tablets and cell phones. And while HTML specs have gone through various revisions and edits, the last one to be certified by the international body that governs web standards came out in 1995.
But a draft of a new HTML version, HTML5, was proposed in 2008. It has not yet been accepted as standard by the World Wide Web Consortium and, according to some experts, may not get that win until 2014. (Things move surprisingly slowly in the world of web protocol.)
But a handful of brands are deciding not to wait, but to move ahead under the HTML5 banner, crafting their own HTML5 solutions while they wait for the official specs. One big reason is that Apple decided not to support Flash as a video standard in the first iPad. That decision was so influential that last November it led Adobe, the company that owns the Flash protocol, to stop working on a Flash format specifically for mobile.
So any brand that wants to get video onto iPhones or iPads needs to find a new solution. HTML5 incorporates native standards for video, including that sent to mobile devices. Site operators can use tags to classify the types of content on their web pages—including, for the first time, video content. In simplest terms, this means that visitors to your website who want to watch a video clip will never be told they need to upgrade to the latest version of anything.
Video in HTML5 can also be sized like images, so the clips don't need to run in standard YouTube or Flash sizes.
HTML also has an impact on search optimization. Web operators are inevitably anxious to make sure that search engines can find all their content and determine what it is, and have relied on basic header tags to pass those signals to the search bots. HTML5 includes a number of new ways to tag content: by sections (indicating the general topics of the pages), by articles (differentiating original content from that syndicated from other sites), and by navigation (to indicate those parts of a site that simply help users find the actual content). All these tags help the search engines understand a website better and index it more accurately. In theory, those benefits then help the site's pages rank higher in organic search for relevant keywords.
Fast and Findable
Rolled out early this year, the new HTML5-based Scion site brings a wealth of content closer to the visitor, faster. For example, mousing over any of the five models in the left rail instantly brings up a pop-up screen showing the car and details such as engine size, standard trim, suggested retail price and other features Scion wants to highlight, such as the new iQ's 11 standard air bags.
"On our old site, you would have had to be five-clicks deep before you got even one of those stats," Peacock says.
Navigation tabs at the top link to a dealer locator and the "Build Your Scion" feature (now running much faster), to a new site-search box and to "share" links that let visitors push content out from the site via email, Facebook, Twitter and Google +.
"From a social media aspect, we found we were missing some important things [on the old site]," Peacock says. "We wanted to get back to where our target audience is on that and even get ahead of them."
A carousel at the bottom of the page gives Scion and Attik the ability to throw up quick links to highlight specific marketing messages, such as the college and military rebates and the Scion Service Boost warranty, and to promote other assets.
HTML5 has also made search optimization of the site easier, from the overall structure down to remapping URL strings to make that structure easier to index, says Jacob Ford, interactive creative director for Attik. "Cars are now built in a 'car' section, so the search engine can now pick up the [model] family page," he says. "URLs for each section have been set up to provide little 'sound bites' to bring up relevant content. Before, we had to rely on cataloging all that content in Flash, which is not easy.
"Moving forward," he continues, "this site is going to be very flexible. When we drop in a new section, it's going to adapt quickly into this layout and get found quickly by the search spiders. New cars, new promotions, new tools such as calculators—now they're going to fit somewhere."
Current tools under the "Easy to Buy" tab include a comparison option that lets users choose a Scion model and then select up to three competing brands and models to see side-by-side comparisons of specs, warranties, performance and safety features, available options and total ownership costs.
Leading with Content
Another SEO aid is a tighter integration with the reams of content Scion has amassed as it travels its unconventional marketing path. The company has long maintained relationships with parts of the music industry through its ScionAV.com site, featuring artists in specific genres from hip-hop to heavy metal, providing pre-release downloads of their songs, and sponsoring musical events and album launches. It has also sponsored racing through ScionRacing.com, with an emphasis on the less structured car sports of drag and drift racing. Links to all that content are now available on the home page of the main website under the "Scion Lifestyle" tab.
Right now, ScionAV.com also houses a unique interactive gallery that uses short films, photo essays and interactive games from 10 creative artists to do what would otherwise be done with a plain brochure—educate visitors about the price, storage, safety, fuel efficiency and other features of the new Scion iQ.
Still to come is an optimization of the Scion.com site for mobile. And of course there might be optimization for the new, faster version of the iPad tablet. But while those things may require tweaks, they won't be full-forklift upgrades: The basic structure of the site is already in place.
"That's the beauty of HTML5," says Ford. "We're already prepared for other platforms."