Saints Pass 300 Yards and Someone Wins a Carnival Cruise
Carnival Cruise Line has launched a sweepstakes in partnership with the New Orleans Saints to raise awareness and funds for a cause close to the heart of Super Bowl champ Drew Brees.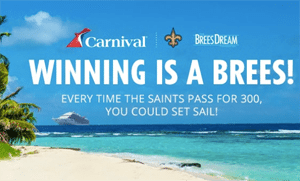 Each time the Saints pass for more than 300 yards in a game this season, one person who enters the sweeps will win a free cruise. The entrants may have a pretty good chance to win as Brees, a 17-year veteran and the MVP of Super Bowl XLIV, is one of the most prolific passers in NFL history with an NFL record 113 career 300-yard passing games, including the playoffs, Carnival said.
Fans can register at the "Winning is a Brees!" website to be automatically entered into the promotion, which runs for the entire 2017 regular season.
Carnival is the official cruise line of the Saints and the Brees Dream Foundation, which is dedicated to improving the quality of life for cancer patients and providing care, education and opportunities for children and families in need. Since its inception 12 years ago, the foundation has contributed over $25 million to charitable causes globally.
Carnival has other reasons to partner with the Saints. It has been operating from New Orleans for nearly 25 years and is the city's number one cruise operator with two year-round ships carrying more than 400,000 passengers annually from the Erato Street Cruise Terminal.
This month, Carnival is also helping raise funds for the Boys & Girls Clubs. It hosted a workshop event with partner Build-A-Bear for 100 kids from the Brevard, FL, area Boys & Girls Clubs on board the Carnival Magic while in Port Canaveral, FL. The event coincided with Build-A-Bear's 20th birthday. Carnival donated $10,000 to the clubs.
Carnival launched its first Build-A-Bear Workshop At Sea last year and the events are now available on all 25 ships, which collectively host more than 800,000 kids annually.
Related articles:
The Life of Carnival Cruise Lines CMO Kathy Mayor
Carnival Cruise Places Interactive "Aquariums" in Store Windows