Are You Ready for the Workplace of the Future?
Predictions for the workplace of the future call for unprecedented change: workforces that solely telecommute and work full-time, but for multiple companies across various industries. Dismantled cubicles and office highrises converted to housing or other uses.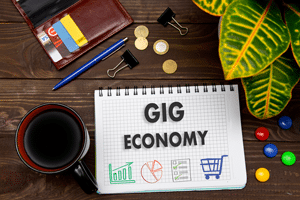 Some of the biggest companies have already sent employees packing with their computers and cell phones to work from home as they downsize office space. Small office locations sometimes remain for any necessary face-to-face meetings complete with "telephone-booths" to make uninterrupted phone calls.
CMO.com asked a number of industry thought-leaders what they thought the workplace of the future looks like. Here are some of the highlights:
1. Despite the technology invasion, human skills will be in high demand like emotional intelligence and creative problem solving.
2. An on-demand skilled workforce will be critical with the largest number of employees working outside the organizations. People who can quickly reskill themselves will be those in highest demand.
3. The need to be 'in person' will become increasingly unnecessary with AI "aids their human counterparts, allowing them to operate at an optimized level that delivers far beyond typical output from career-driven professionals," CMO.com said.
---
More on Hiring:
---
4. A trend already underway is that employees will be less tolerant of top brass and want plenty of flexibility in their work life, according to Forbes. They shun the 9-to-5 work day sitting in an office cubicle and, instead, seek unconventional career paths in non-traditional companies. Flextime and telecommuting will be a requirement for these people to accept a job.
5. The gig economy will move into full swing to include digital marketers, consultants, freelancers, part-time employees, and other contingent workers, Forbes said. A study by Intuit predicted that by 2020, 40 percent of American workers would be independent contractors.
6. Managers and human resources need to get on board with this new employee's work-life requirements or find themselves with a limited pool of talent to choose from.
7. Employers will be routinely be rated and reviewed. "Inconsistencies between what you say versus what you do could lead to a negative reputation that could drive away potential employees," Forbes said.