What Makes Up the Ideal Marketing Team?
There's been plenty of discussion recently around what makes up the ideal marketing team. Should it be all marketers— brand marketers, marketing VPs, CMOs, marketing directors, marketing managers and so on—or should other types be on the roster?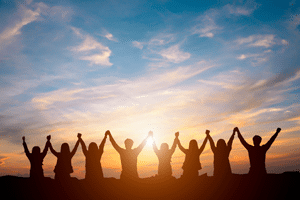 Forbes argues that using job titles breeds one united voice, a lack of variety and leads to less diversity of thought.
"The next time you see a campaign launch team composed only of marketing people, ask yourself if that's really the most ideal grouping. Consider another way to build effective campaign launch teams—one that leverages soft skills instead of job titles to create a synergistic team of talent," the author, Cori Linder of the Forbes Communications Council, wrote.
Linder proposed six optimal skill sets and explains the role each person should play:
1. The Visionary
2. The Taskmaster
3. The Creative Thinker
4. The Problem Solver
5. The Devil's Advocate
6. The Culture Creator
---
More on Hiring & Talent:
---
Look beyond the job titles to the diversified skillsets that otherwise might cause the ideal team candidate to be overlooked, Forbes says.
Looking beyond job titles is also prompting marketing execs to look outside of their own workforces. About four in 10 advertising and marketing executives (39 percent) said the freelance creative talent pool has grown stronger, a survey from staffing firm The Creative Group has found.
About four in 10 advertising and marketing executives said the freelance creative talent pool has grown stronger.In addition, more than half of respondents (58 percent) reported that their company does employ project professionals. Among these organizations, about 14 percent of staff work on a freelance basis.
"While freelancing is not a new concept in the creative industry, it's becoming a more attractive career option for professionals with in-demand skills like digital marketing, web and user experience design, and content creation," says Diane Domeyer, executive director of The Creative Group. "As hiring remains competitive, companies increasingly turn to highly skilled freelancers to fill gaps on their teams."
According to Upwork's Q1 2018 Skills Index, which ranks the 20 fastest-growing skills for freelancers, the 20 top skills experienced more than 130 percent year-over-year growth in demand, while demand for the top 10 skills grew more than 400 percent compared to the same time period last year (Q1 2017).
"As skills become more specialized, companies either need to invest in reskilling to prepare workers for the jobs of tomorrow or leverage freelance professionals who are nearly twice as likely as traditional employees to proactively take reskilling upon themselves," said Stephane Kasriel, CEO of Upwork and co-chair of the World Economic Forum's Council on the Future of Gender, Education and Work. "Many of today's Fortune 500 companies are already doing this, and adoption of flexible workers will increase as hiring gets harder."
The top 20 fastest-growing skills, Q1 2018 are:
1. Blockchain
2. Tensorflow
3. Amazon DynamoDB
4. Voice over
5. Subtitling
6. Art direction
7. Content strategy
8. Computer vision
9. Microsoft Power BI
10. Augmented reality
11. Chatbot development
12. React native
13. Media buying
14. Go development
15. Information security
16. Scala development
17. Instagram API
18. Adobe Premiere
19. Machine learning
20. AngularJS development