MTA Says Posters Too Sexy for NY Subway
The New York Metropolitan Transportation Authority, which runs the New York subway system, has taken a stand on just how far it will go with the types of ads and content it shares with its millions of customer who ride the rails each day.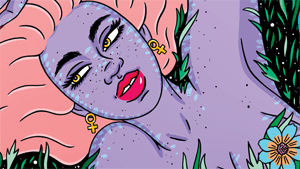 The startup sexual wellness company Unbound, which bills itself as an online shop for rebellious women has pushed that limit with its ads. The ads were submitted to Outbound, the company that manages MTA advertising and rejected, according to Gothamist. Unbound, which recently raised $2.7 million in funding, provides customers with content, sex toys and a quarterly box of curated products.
One major stumbling block may have been the heavy focus on imagery, versus text. Some of the posters show sex toys (but no nudity), a woman lounging in a robe and another with her breasts covered by flowers. Five female artists created the artwork.
---
More on Marketing Missteps:
---
"We're disappointed by the MTA for banning sexual wellness companies that cater to women and femme-identifying individuals from paying to advertise,"Polly Rodriguez, the CEO of Unbound, told Gothamist. "It's a uniquely visible platform that's hard to replicate via any other initiative. They now join the ranks of organizations like Facebook, Instagram, Snapchat and Pinterest—all of which also ban advertising from companies like ours."
As advertisers and marketers continue to push boundaries to cut through the clutter and make an impact with consumers, the bloopers keep coming.
Earlier this month, a supermarket chain in Germany became the latest brand to cause an uproar after posted ads promoting items the likes of ironing boards, sewing machines and vacuum cleaners as suggestions for Mother's Day gifts. Social blew up. The chain pulled the ads, but in the meantime, a competitor jumped in to slay the chain with its own ad promoting a beautiful basket filled with chocolates for Mom's Day.
In March, in a new TV spot for Heineken Light, a bartender is shown sliding a bottle of the brew down a long bar. The bottle passes by several men and women of color before stopping in front of a light-skinned woman. As she picks it up, the words "Sometimes Lighter is Better" appear on the screen. Oops.
While these companies may have had the best of intentions in mind, their missteps turned into major exposure on social and through the media.