Making Mobile Part of Your Lead Gen Strategy
The need to make mobile media part of your lead generation strategy today is obvious. What isn't so obvious is how to integrate mobile in a way that will effectively engage consumers and not run afoul of privacy and regulatory issues.
Because of the reforms to the Telephone Consumer Protection Act last October (click here to learn more), calling consumers on their mobile devices can be a tricky proposition. A better practice, says Eric Holmen, CMO of enterprise inbound call marketing solution Invoca, is getting the consumer to call you.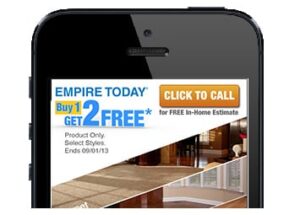 "At one point marketers could reach 100% of their audience through the desktop, but what worked a couple of years ago doesn't work now," says Daryl Colwell, senior vice president, sales & business development—US for Matomy. "Consumers use a number of different devices, and consumers interact with you differently on mobile than they do on the desktop web."
Because of the challenge in gather information via mobile, Matomy has a seen a tremendous growth in the demand for pay per call. "If you search for something and get to a banner or landing page, from a marketer's perspective its much easier to get somebody to tap to call—and it wipes out all potential risks from the TCPA," he says.
Even if someone is very interested in your product, they're not going to sit down and fill out a lengthy form on their phone, Colwell notes. "As a marketer utilizing the mobile web, to capture a consumer you need to think long and hard about exactly what you want to capture and have your mobile landing page capture just those fields. The less you put in front of consumers, the more leads you'll end up capturing."
There isn't a lot of real estate on a mobile phone screen—copy and image often take up much of that space. Thus, Colwell says, marketers have to be very succinct and hit the consumer with only what they need.
Empire Today has been working with Matomy for about a year. The brand services about 85% of the United States, with a customer base that is typically suburban homeowners in the 35-65 age range. Customers call for an appointment, and a sales rep comes to the home to help them pick out carpet or flooring and get an in-home estimate.
Empire had a well known jingle, featuring an arguably even more well known 800 number ("800-588-2300….Empire!") . The challenge with pay per call for Empire was driving new business to the trackable pay per call number, without cannibalizing the business going to the famous number.
"It is working," Keith Weinberger, senior vice president of marketing, Empire Today, "because so many people use smart phones in their day to day life. From what we can tell, we are not seeing any degradation from other channels."
The well-known 800 number is still being promoted through TV and radio, but the pay per call approach allows Empire to track leads effectively on the digital side from mobile phones and tablets.
Knowing what to do next after a prospect makes an initial call is crucial. Invoca recently introduced Signal, a technology to help marketers analyze keywords in inbound sales conversations. The technology listens to what happens on an inbound call and then automatically applies scoring techniques to determine the next action. For example, says Holmen, in the travel space, Signal would listen for a destination such as the South Pacific, and categorize the next action appropriately.
In the healthcare space, there is great interest in mobile especially since the Affordable Care Act. "During open enrollment periods, mobile gives us an opportunity to engage with customers," says Jeremy Dowdy, senior digital strategist, KBM Group. "The mindset is all around capturing a lead and then engaging with that lead in the non-peak season—it could be via social or mobile and then having them share virally to their networks."
Insurers are looking at a number of mobile tactics to engage consumers, including getting them to enter a contest or sweeps, which then allows the insurer to capture a lead and push further marketing communications to the lead. "Mobile pill boxes," which allow consumers to manage their prescription medication schedules via mobile app, are another way insurers are engaging people via mobile.
"A typical smartphone user checks their phone 150 times a day, so there's no better channel to go after them with than mobile," says Dowdy.
Of course, some consumers just want to get a quick question answered before talking to a salesperson, and they feel more confortable making the initial overture via email. JustMailTo: offers a product to make it easier for mobile visitors to submit inquiries via email. When prospects are on a mobile site, after a few seconds they see a link that can connect them directly to the marketer via email, to ask a quick question.
For a doctor's office, this might be something as simple as "Are you accepting new patients?" or "Do you accept my insurance carrier?" For a clothing store, this could be "Do you have this dress in a size six?" From there, the sales team, can pick up the thread.
"People want to ask a question and not get on an email list for the rest of their life," says Brian Singer, founder of JustMailTo:. "It's a common problem—while mobile engagement is going up, the amount of people filling out forms is going down. If someone has five minutes to browse on their phone, they're not going to spend three of those minutes filling out a form."
The JustMailTo: technology can point the inquiries to one or more email addresses. For example, in a doctor's office the email might go not only to the doctor but a secretary or assistance as well, to make sure it goes to the right person for a reply.