Keurig, Wayfair & Ashley Stewart Get Personal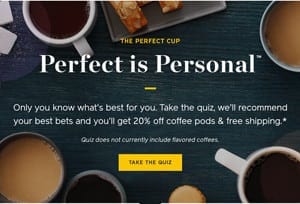 Customers have a lot of options online when it comes to shopping. Making a personal connection is one way to differentiate your site and make it a repeat destination.
But there are many pitfalls and challenges when it comes to implementing great personalization online. Marketers from several consumer brands shared their strategies at the recent MITX Ecommerce Summit in Boston.
"I think personalization adds a lot of value. I don't think we're at a place yet where it feels creepy," said Julie L Daly, vice president of ecommerce at women's clothing retailer Ashley Stewart. "I feel more creeped out by retargeting."
Ryan Scott, vice president, digital operations & innovation, Keurig Green Mountain, agreed, noting that he continues to be disappointed by retargeting.
"Lord and Taylor followed me around the web for two months trying to sell me cocktail dresses and baby onesies," he said with a laugh. "No one would buy that media on purpose but it was disappointing. I kept trying to figure out what they knew about me that I didn't know about myself!"
Meera Murthy, vice president, strategy, Evergage, noted a main problem she sees with personalization is brands not following through to make the effort compelling and have value to the consumer. "Brands need to leverage in-store data and bring it into the digital channel to create a seamless experience and add efficiency."
Wayfair is working to improve its personalization by determining what channels a customer likes to use and what they typically shop for, to connect customer experiences. But that isn't always easy.
"If you buy a coffee table today and then come back in six months for a sideboard, that makes it hard to get a good customer picture," noted Ed Macri, chief product and marketing officer of the home goods retailer.
Past purchase history is particularly important to help personalize site experiences, said Keurig's Scott. "Deals are great but they have to be relevant—if Dunkin is your brand and we send you an offer for something else, that doesn't work for you."
Ashley Stewart's core customer base from the retail stores is extremely loyal, said Daly. "It's built on emotion. She follows us on social, she flocks to our events. She might come back to the site three or four times a week to socialize. We need to figure out how to take that emotional attachment and translate that online, and embrace those feelings."
Many of Keurig's customers are used to buying when there is a sale. It's a challenge to figure out how to use personalization to get them to respond to something other than a great discount offer. "We want to get them tuned in and not just be constantly remarketing them when they may not even be out of coffee pods yet," said Scott.
Keurig definitely doesn't have an awareness problem, but still, the brand feels it could be in twice the amount of households. "People who haven't bought [a Keurig] have decided not to buy for a reason," he added, and the brand needs to figure out how to crack through that barrier.
Storytelling has been extremely helpful in educating people about coffee. "There's a lot of engineering that goes into producing the pods. How can we tell that story without making it super nerdy?" said Scott. "We need to be able to break it down into 60 second nuggets and personalization helps us make that story resonate to different audiences."
The brand launched "The Perfect Cup" to help consumers find the coffee pod that is right for them. There are over 280 different types of black coffee pods, so choosing one can be daunting. A five question quiz on the site asks people things how they like their coffee to taste (Mild? Strong? Tangy?), how they take their morning cup (Black? Cream and sugar?) what aroma they prefer (Nuts? Fruit? Caramel?) and more. They then get recommendations and an offer for 20% off pods and free shipping.
The brand follows up after purchase to see if the recommendation was on target. "If they liked it, great. If not, help them find a coffee they will love," he said.
Wayfair had a lot of legacy systems to work through, but is now getting data scientists, product managers and engineers to work together to create better personalization for the site.
"But its still super hard to crack through problems," lamented Macri. "How do you figure out styles in real time? Do you redesign the site search? These are thorny problems to solve."
Related Articles:
How CMOs are Turning Ecommerce Measurement on Its Head
West Elm: Come for the Shopping, Stay for the Night?
5 Strategies for Better B2B Ecommerce