West Elm: Come for the Shopping, Stay for the Night?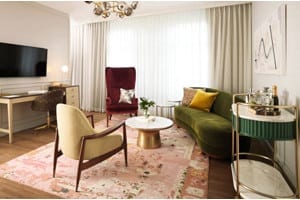 Do you have a retail store that you love so much your friends think you might want to live (or at least sleep) there?
West Elm is hoping it has those kind of enamored shoppers. Starting next year, the furniture retailing division of Williams-Sonoma is planning to open boutique hotels in five cities, including Detroit, MI; Charlotte, NC; and Savannah, GA.
The New York Times reports that the room furnishings will be similar to those sold by West Elm online and in 90 retail stores across the U.S., with the main difference being the hotel furnishings will be a bit more durable to stand up to the increased wear and tear of road warriors (and, thankfully, repeated cleaning).
The move caters to both travelers looking for more "homey" accommodations and to West Elm itself, which is no doubt looking for more ways to tell its brand story and showcase its wares for shoppers who have increased furniture sourcing opportunities online. Travelers, after all, are also avid shoppers, reports the Times, noting that the U.S. Travel Association cites shopping as the second most popular activity for leisure travelers. (Visiting relatives is the first.)
The lodging industry is a competitive space. The family-oriented waterpark chain Great Wolf Lodge began using video last year to engage millennial families to come stay at the resort, while Motel 6 upped its mobile game to connect with frequent travelers.
"The strategy around storytelling is not to sell, but rather to tell stories, authentically and with credibility as a way to entertain," said Lawson Clarke, creative director at Hill Holiday, which worked with Great Wolf Lodge. "If people feel something genuine, it gets passed around."
Related Articles:
Red Roof CMO Marina McDonald on Tech, Apps & New Carpets 
Motel 6 Targets Road Warriors With Mobile First Strategy
Great Wolf Lodge Uses Storytelling, Not Sales