JCPenney CMO on Marketing to Women in the #MeToo Era
JCPenney launched a new campaign in March, turning a page from a two-year initiative that focused singularly on value to one that incorporates style and emotion as well.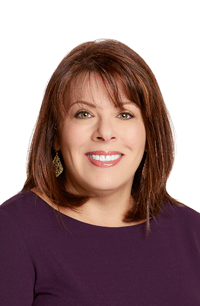 "Style and Value for All" is multichannel campaign spanning TV, radio, digital, social, print, direct mail and in-store elements. JCPenney CMO Marci Grebstein, on the job about one year, talks about the campaign and the importance of getting it right when marketing to women today.
CHIEF MARKETER: What was the thought process in developing "Style and Value for All" and what reaction have you gotten to the campaign so far?
MARCI GREBSTEIN: When we thought about changing up our campaign it was really around creating a more emotional connection with our customers—that they see themselves in our marketing and advertising—that we're relatable.
CM: How is the new campaign different from "Get Your Penney's Worth"?
MG: Our customers have always seen JCPenney as a brand that has helped create value for them and helped their dollar and budget go much further. With "Style and Value for All," the tone and imagery throughout all of our marketing is relatable and shows a clear depiction of inclusion of ethnicities, and also shape, styles and sizes because all women don't come in a size-two supermodel.
CM: How is the messaging different?
MG: We think it's really important to be very realistic and relatable in showing that we get that women come in all these shapes and sizes and that we have style and fashion for everyone at a great price and that they can count us on for that. It's also very important that we understand our customer is very grounded in her family and that family comes in all different configurations. Creating and portraying those realistic relatable moments, showing family and friends that connect and engaging with each other are some of the magic moments where that emotional connection happens.
CM: Do you have any early results?
MG: We just got our first read after about 12 weeks in the market. The research has shown that our customers feel they are really being represented in our marketing, and they're feeling like they see themselves in our campaign. This is especially true for our multicultural and Hispanic customers, where we've seen a significant increase in our scores for advertising using the Kantar Millward Brown power score and our benchmarks.
CM: Women are a huge part of your customer base. There is enormous focus on getting in right when marketing to women today. What are the top considerations marketers need to think about?
MG: Brands have to be authentic. There has to be a sense of authenticity in how they talk to women. Without that, it falls flat and seems like pandering to women.
---
More on Marketing to Women:
---
CM: How do you achieve that authenticity?
MG: My advice to other marketers, and what I take to heart, is to remember where your brand came from: To think about the roots of your brand. [Knowing] that original story and then clearly reflecting your brand's values in your marketing. Secondly, I have a 21-year-old daughter and I think about what kind of impact advertising and marketing has on women in our culture—what's the influence and how does this affect my daughter, our mothers and sisters and others. I think about it from that standpoint as young women are becoming key consumers and decision makers. Thirdly, empathy: Every decision that we make as a marketer has to keep that customer in mind. We need to understand her and address the things that are important to her. I think these three things are critical when marketing to women today.
CM: There is a lot of focus internally, both at both brands and agencies, around marketing to women and inclusion. Have you made any internal changes?
MG: We've had a focus on inclusion and diversity as part of our company culture for a long time. So there hasn't really been a dramatic change in our approach. We believe that a commitment to inclusion and diversity is our moral responsibility. It's not a shift for us. It's a foundation of our culture. It fosters that environment of collaboration and respect for women and for everyone.
CM: What is the makeup of your team?
MG: Our workplace here is about 80% female and about 50% an ethnic minority. So we really have a diverse workplace. I think we have a really good understanding of different types of women and family situations and what they're looking for. We pull that empathy out of our own workforce that's really reflective of the culture today.
CM: There are still plenty of examples of stereotyping women in marketing. Why do you think some brands just aren't getting the message?
MG: Brands that aren't connecting with women are probably not being as authentic as they should be. Consumers in general, especially women, are very savvy and can quickly see through a brand that is simply pandering to them or riding the latest trend. If you think back to a number of years ago, marketers were environmentally focused and there was a whole host of green washing and then we went though pink washing. Consumers really saw through that. If it's not part of your core DNA or don't have visible support tactics that ring true to her, she doesn't respond to it. You can actually put your customers at risk for completely turning away from your brand if you don't have that authenticity around it.