How to Spike the Holiday Marketing Plan with Data
Cool weather, warm drinks, and family gatherings can only mean one thing: the holiday season is upon us. With the vast majority of consumer spending taking place during the holidays, it is the most important time for marketers to reach their audience. But how can they best understand what their consumers want? With data.
But what exactly are shoppers looking for?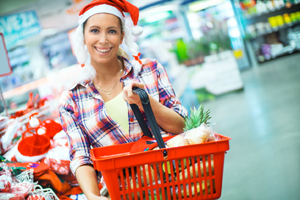 Utilizing first-party purchase data, overlaid with social trends, listening and search behavior the prescriptiveIQ analytics platform provides a comprehensive blend of insights that show shoppers are looking for more than just a deal or a discount this holiday season. These insights have been combined in the  prescriptiveIQ Holiday Trends Report to help marketers understand the frazzled holiday shopper.
Holiday shoppers want to be informed
Not surprisingly, shoppers will be searching the web to be sure they are making the right decisions. And while they are looking for information, they are also looking for creative ways to be more efficient and organized during the holiday madness. Most shoppers are using social media to get engaged with, and excited about, the upcoming holiday season.
Timing is everything
The Christmas meal conversation begins immediately after Thanksgiving but, last year, spiked around Dec. 17. Meal ideas and solutions with conversation and content around meal purchasing spiked the weekend prior to Christmas, showing many shoppers wait until the last minute to finalize decisions and purchases. For example, did you know that 18 percent of the total amount of ham purchased in the U.S. for Christmas is done by last-minute shoppers in the three days leading up to Christmas, while 16 percent of ham purchases are planned two weeks in advance? That means brands and retailers need to keep the holiday messaging going right up to the last minute to capitalize on as many purchases as possible.
---
Other articles you might enjoy:
---
Bundle it up
Items most frequently purchased with ham for the Christmas meal include side items, ingredients for the main dish and desserts. Out of the ham purchases, sides, including items such as commercial bread, canned vegetables, gravy and potatoes, are included in the transaction 55 percent of the time. Additional ingredients like butter, flour, baking ingredients and sugar are purchased alongside ham 33 percent of the time. Desserts are purchased with ham 12 percent of the time and include items like baking mixes and ice cream. Chocolate baking morsels are 14 times more likely and confectioners' sugar is 13 times more likely to be combined with a ham purchase.
The ideal time to bundle items and cross-merchandise is in between Thanksgiving and Christmas. Consumers are searching for, talking about and purchasing items across stores in addition to shopping in stores and on websites they typically do not shop. This is a great opportunity for marketers to partner with complementary brands to give their customers a total solution.
What's popular?
The top recipes last year were around "pinwheels" – turkey, spinach or a combination of the two. Other leading mentions were taco salad, string beans, cauliflower and black beans. Out of the group that is talking about Christmas and meal prep online, these consumers are more likely to be interested in cocktails and beer. This also aligns with "holiday cocktail" being one of the top searches within Pinterest, with "pretzel holiday snacks" close behind. Shoppers are also actively talking about healthier holiday options and taking their traditional dishes and making a "skinny" version, i.e., lower salt, less fat, substitute sweeteners, etc.
Males vs. Females
And don't forget that a whopping 77 percent of the total meal prep conversation during December is driven by females, the Holiday Trends Report found. When discussing all things Christmas, we make up 68 percent of the conversation. Topics women mentioned included phrases such as perfect, book, food, favorite, joy while men mostly discussed game, gift, presents, Santa or community.
During this time of year when everyone is competing for time and share of voice, analytics becomes even more critical to reach the right shoppers with the right message or offers. Be sure to inspire with ideas that save time, reduce stress, connect with shoppers by sharing their passion for the season and engage shoppers during key purchase cycles to drive engagement, conversion and loyalty.
Holly Pavlika is senior vice president, marketing & content, Inmar.