How to Turn Holiday Bargain Hunters into Loyal Customers
The holiday season is already well underway and most retailers are seeing an influx of new customers, driven by the discounts that nearly half of shoppers say dictate where they'll be buying gifts. Once these shoppers have made a purchase, retailers are left with a completed sale and, if they're lucky, an email address or at least a cookied browser.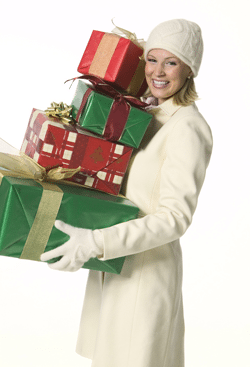 Despite the seemingly fleeting presence of these shoppers, there is a major opportunity to turn those low-profit margin, one-off shoppers into loyal long-term customers. Therefore, the holidays aren't just a time to execute a marketing strategy that includes discounts or special offers, but an opportunity to think about how to engage, convert and retain a new pool of consumers throughout the rest of the year.
Here are three steps to getting started on turning your holiday buyers into long-term loyal customers:
1. Focus on experience
The first step involves changing how you think about and approach marketing. Rather than serving as a siloed tactic, marketing should expand over every customer-facing channel in order to allow consumers to do business however they want. This should even go beyond traditional marketing channels and reach into areas like customer service. Why?
Research clearly demonstrates that customer experience is perhaps the biggest differentiator when it comes to where consumers shop, and while 75 percent of organizations think of themselves as customer-centric, only 30 percent of consumers agree. Thus, there's a major opportunity to bring customer experience to the level of the customer's expectation in a way that differentiates from competitors and creates lasting loyalty rather than one-off purchases.
The best way to do that is to start looking at the customer experience as a function of customer journeys—the series of steps that consumers take through time to get to a purchase.
2. Map customer journeys
Customer journey mapping is a popular and important activity when it comes to understanding the existing customer experience and then considering how that compares with the ideal experience. To get started, try to visually map the process and decision points that customers go through to reach a sale. Begin with the most common ones and go from there. Here's a very basic example for a shopper looking for a product online:
Google ⇨ Website ⇨ Product page ⇨ Cart ⇨ Checkout
Once you have a number of these defined, it's time to start tracking metrics that relate to the actual behavior of customers. Take a look at your data and see where the pain points are, for example in the example above, are customers dropping out from product pages or do you have a lot of abandoned carts? Some good metrics for measuring how this journey might be improved could be both cart abandonment rate and bounce rate on the product page. Assigning these metrics and collecting real data from customers will make it a lot easier to turn these maps into a customer journey reality rather than an abstraction.
Now that you have customer journeys and metrics outlined, you can start putting these into action.
3. Manage journeys
Traditional marketing campaigns are defined by proactive, planned communications that are usually determined by the recipient's likelihood of responding in a certain way (usually based on certain data points). Journey management, in contrast, is about expanding beyond the measurement of current journey activity, and instead setting up systems and processes that seek to understand each customer's personal objective and operate channel systems to support them. This type of predictive personalization is what leads to a truly differentiated customer experience, and is one of the main reasons why companies like Amazon and Uber are so successful.
Journey management doesn't immediately replace classic campaign management but instead enhances and complements it with an "always-on" understanding of individual needs and intentions, that will expand beyond outbound marketing messaging channels to all points of customer contact.
While this sounds complicated, it doesn't need to be, and getting started now will set you up for success with the new customers you acquire during the holidays. Further, it doesn't need to be perfect at the outset. The best customer journeys are developed in an agile manner—testing, learning and growing.
If you find yourself at the end of the holidays with a big list of first-time consumer names and email addresses, consider trying a customer journey strategy. Will you be moving the needle against your competitors by blasting out emails, retargeting anyone who clicks through, and occasionally running generic sales and offers in a silo? Realistically, no.
There's nothing inherently wrong with those tactics if they are integrated and personalized in order to move from just marketing to creating a valuable customer experience. Integrating the channels can start with something basic like personalizing post-holiday emails with new product recommendations based on the few things you already know about the new customer, and can be as advanced as investing in a journey orchestration platform that touches on every consumer-facing element of your organization.
Regardless of where you are currently, retaining holiday shoppers starts with understanding that bringing them back means offering a superior experience, and going from there.
Mark Smith is president of Kitewheel.
Related articles:
Customer Loyalty: Three Tips to Earn It and Keep It