As the Holiday Dash Gets Underway—Free Shipping Trumps Speed: Study
With the holiday shopping rush upon us, consumers have spoken—free shipping trumps speed as the two most important issues driving them to retailers.
For the second consecutive year, 88 percent of survey respondents to Deloitte's Holiday Survey—its 33rd annual— of consumer spending intentions and trends, prefer free shipping over receiving their holiday packages faster (12 percent).
A whopping (61 percent) will buy items that qualify for free shipping this season with two-thirds (66 percent) willing to wait three-to-seven days for their merchandise.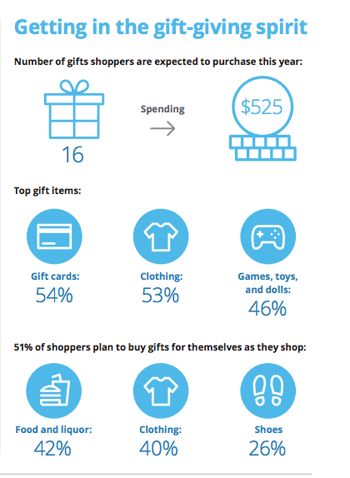 So what defines free shipping? Sixty-two percent say two days or less, up from 54 percent in 2017. One-quarter define three to four-day delivery as fast shipping, down from 35 percent in 2017.
Free shipping offers make things challenging for brick-and-mortar retailers as 47 percent of respondents shopped in stores to "avoid shipping costs." The No 1. reason to shop online is "convenience" (77 percent) followed by "free shipping" (72 percent), the Holiday Survey found.
"The same percentage of shoppers prefer fast shipping over free compared with last year, but perceptions about delivery speed have changed considerably," Rod Sides, vice chairman, Deloitte LLP and U.S. retail and distribution leader, says. "The expectation for delivery has become two days or less. Fast and free used to be considered incentives, and now they're just table stakes."
Past data breeches don't appear to have an impact this shopping season. Most shoppers are still willing to trade personal information for discounts.
---
Other articles you might enjoy:
---
Data Dialog
Of the 77 percent of shoppers concerned about retailers who experienced breaches, nearly all (91 percent) say they would continue to shop those same retailers. Only seven percent said they would never shop at that retailer again.
But there is a line drawn in the sand when it comes to doling out personal info. Fifty-six percent will share basic demographic info, like gender and first and last name, but they'll hold tight to the vest when it comes to personal information like geolocation, financial history and credit scores. Even so, consumers will share information if they get something in return: 61 percent of respondents say they would take a promotion or discount in exchange for sharing personal information.
The Mobile Movement
More than two-thirds (67 percent) of smartphone shoppers plan to use their phones to make a purchase, up from 59 percent last year. This holiday season, 76 percent of respondents say they'll use their desktop or laptop to shop, making it the most preferred device, but that number fell from 83 percent in 2017. Tablets remain relatively flat, at 22 percent, compared with 20 percent last year, according to the Holiday Survey.
Newer technology has yet to capture attention; just five percent of people surveyed said they'd use voice assistant for shopping, five percent for social commerce, and four percent said they'd engage in virtual reality technology.
Corporate Responsibility
More than half (54 percent) of Gen Z and Millennials (53 percent) say plan to join the masses on Black Friday compared with only 37 percent of seniors. Cyber Monday holds even more interest, where 63 percent of Generation Z and 62 percent of Millennials plan to stick with Cyber Monday shopping as in the past.
Corporate responsibility when it comes to society and sustainability is planning a growing role in consumers' shopping habits. Younger shoppers appear more willing to consider a higher price tag for social responsibility at checkout. Nearly 9 in 10 (87 percent) of Gen Z and three quarters (75 percent) of Millennial shoppers are willing to pay more for sustainable products. By comparison, almost half (47 percent) of baby boomers and 41 percent of seniors are not willing to pay extra.