How L.L.Bean Mastered a Sophisticated Measurement Strategy
When you're a respected 107-year-old brand, it takes a sophisticated strategy to remain relevant—and a willingness to change with the times doesn't hurt either.
As revenue stalled and customers aged, L.L.Bean began a transformation journey about 18 months ago, shifting its focus to align with a new refined brand positioning: "Made For the Shared Joy of the Outdoors." That transformation called for a huge shift in the way it looks at customers, through psychographic versus demographic profiles. Last summer, a newly created department—Brand Engagement—helped the Freeport, ME, retailer blend experiential, PR, social, partnerships and charitable giving to pave a path to the future.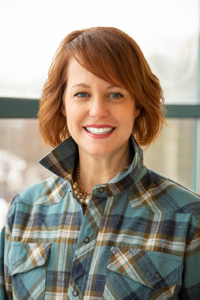 Kathryn Burke Pratt, director brand engagement, leads the new department. She champions its new strategy to be idea-led, and then determine how those ideas get expressed in every channel. Mastering marketing measurement across channels has played a key role in setting new goals and benchmarks to inform future planning.
Last year, the team had plenty of metrics to work with. More than 25 campaigns launched, and learnings were diligently applied to the next initiatives to build better, more informed projections.
"Our goal is to bring to life our renewed brand position through disruptive, engaging campaigns," she says. "We still lean on the same metrics—social engagement, PR coverage, on-site participation—but look at these metrics with an integrated campaign lens versus individual disciplines. And with every campaign, we identify the most important success metric during the ideation stage."
Starting from scratch
Last June, when the department launched, there were measurement challenges with one of its most ambitious and robust campaigns and the first by the Brand Engagement team, "Be an Outsider at Work." Because of the breath of the effort, there were no benchmarks or metrics to help set goals. And, because the objective was in line with the brand's new shift to view customers through a psychographic lens, it wasn't about driving sales, but rather changing behavior—getting folks to spend more time outdoors during the workday.
"We had some sense of benchmarks based on other work that [lead agency for brand experience] Jack Morton had executed, but we didn't have our own set of benchmarks," Burke Pratt says. "That required a very different mindset as we set out to develop the campaign and establish what metrics would align with changing behavior. A sales-driven campaign is much clearer, but what was the end game to changing behavior. Ultimately we're trying to inspire people of any age, gender, ethnicity, geography to enjoy the outdoors, so that has really played out across all of our marketing channels."
One key insight Jack Morton found was that the majority of L.L.Bean's audience was held inside by their traditional, office-based desk jobs. Not surprisingly, they also found that 86 percent of indoor workers would like to spend more time outdoors during the workday.
That audience insight led L.L.Bean to set out to change how—and where—people work. Last summer in New York City's Madison Square Park it opened an outdoor co-working space, designed with group and individual work areas. The experience then hit the road over six weeks with stops in Philadelphia, Boston and Madison, WI.
The team landed on a goal to create a conversation to inspire a movement to get the outside into workdays with earned PR impressions as a primary metric to success, as well as social engagement and digital interactions like web traffic and video views. Impression data was collected through several media monitoring platforms for print, digital and broadcast media and then compiled in-house.
"Increasingly in brand engagement we're keeping a really close eye on PR impressions and social engagement," she says. "We ingest all of the data and then dial that up to a dashboard that tells that narrative of what is this campaign doing in response to the objectives we set out for," she says.
"Ultimately, we knew that changing behavior was a matter of winning hearts, gaining cultural relevance and creating a consumer-driven movement when it came to working outside," says Ben Grossman, SVP, group strategy director, Jack Morton.
Social chatter about the campaign was 4.4 times higher than the industry average. USA Today, the largest newspaper in the country, picked up the story on its front page. And a January 2019 New York Times article cited research from L.L. Bean's survey in an article titled "The Next Frontier in Office Space: The Outdoors."
"You can get really mired down in all of the impression and social data, but making sure that we're rising above all of that to ensure that whatever data we're looking at—the story that we're seeing—is leading the objective that we set out to do with the campaign," says Grossman.
"The ideal return being are people actually spending more time in the outdoors during the work day and we were able to answer that with a profound yes," Burke Pratt added. "Based on our surveys of participants across markets, 95 percent of respondents reported that they were more likely to take their work outside in the future."
The careful planning to develop metrics and benchmarks set the stage for the next big campaign.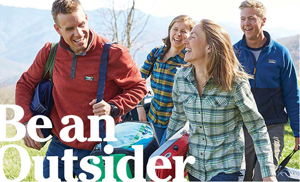 Getting smarter and smarter
"Going into summer planning for this year we now have that as a reference point and we're building our campaign this summer in response to the types of benchmarks that were created through 'Be an Outsider at Work.' I feel like we're getting smarter and smarter with each campaign," she says.
A critical element in understanding all the metrics was building a large enough volume of data to roll in to an attribution model in partnership with the marketing mix attribution team.
"We are now in the early stages of being funneled into the attribution model," she says. "That is critical input to all of our planning, both our content and media planning. For my work in particular, we're just starting to get those readouts as we do bigger campaigns like 'Be an Outsider at Work' because those larger campaigns have the volume of impressions that we need to show up in the model. That's going to really inform how we see an uptick in our web traffic and what the impact is on our retail stores. We can also see how that that affects the response to the brand when we pop up a mobile selling activation, or social campaign in a given market."
---
You May Also Enjoy:
---
One of Bean's newest channels is a mobile selling program—a mobile pop up shop that travels from college campuses to state fairs and music festivals. Over the past year, traditional marketing metrics like sales and customer acquisition have been tracked as well as shopping behaviors.
"I would say the biggest learning that we had that's informing our planning this year is that there are some events where there is a high volume of traffic, but people aren't necessarily in the mindset to shop," she says. "So how we show up at those events might look very different than how we show up on a college campus where we get a lot of foot traffic and have had a really positive response from a sales standpoint."
"It's easy in a measurement conversation to assume good marketing measurement always means that it's delivering immediate short-term sales," Grossman says. "I think that's a fallacy, especially if you work with a brand that needs to be scaled and managed over 106 years, like in L.L.Bean's case. Great brand leaders know building value requires balancing short and long-term results and L.L.Bean's team understand just that."
A new campaign set to debut in June will build on the learnings from the "Outsider" efforts, looking at two of the biggest barriers to getting outside during the workday, time and motivation, says Burke Pratt says. "We wanted to make sure we were doing something again this summer that continues to drive L.L.Bean's connection to summer."