Data and Emotional Intelligence: The Toronto Raptors' Secret Weapons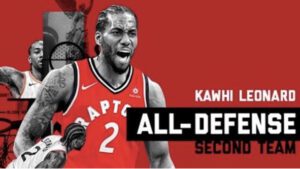 The use of emotional intelligence and analytics has nearly become table stakes in the business world, but now they are becoming part of the path to winning in professional sports. The Toronto Raptors wouldn't have just won the NBA Championship if they didn't combine those two irreplaceable tools for success in the modern world. It wasn't that the team they beat, the Golden State Warriors, lacked either of those elements; after winning three out of the last five NBA crowns, it's clear the Warriors had both in spades.
Yet the Raptors shocked the world—and as a Canadian, made me especially proud—in the last month by not only beating the Warriors but also taking down the formidable Philadelphia 76ers and the easily favored Milwaukee Bucks. No one expected Toronto to knock those three teams out in succession because the Raptors were seen as being less talented. Odds-makers gave Toronto a 12% chance of winning it all at the beginning of the season, and they now consider its triumph as the second-biggest upset in NBA championship history.
All teams try to use data to win. After Moneyball popularized how baseball's Oakland A's cracked the code on using analytics to win with less talent, all pro sports teams at least tried to dip their toes into the area by hiring a data scientist or two. But trying isn't enough in today's game or business. The Raptors took everything to a new level by working with IBM Watson to create a data-driven "war room" that supports the coaches, the players and everyone else in the organization. While crunching comprehensive data on every player, Big Blue has helped the Raptors assemble their roster as well as make other choices that often mean the difference between winning and losing.
Intelligence breeds confidence, which, in turn, breeds success. Success breeds team-building, cohesiveness and/or camaraderie. The Raptor's data-driven, on-the-court success, therefore, has created a better sense of togetherness among the entire team, which subsequently didn't need a handful of all-stars to win the title. (They were pieced together out of basketball scrap metal compared to the Warriors and 76ers.) Instead, the Raptors had the emotional intelligence to get the job done.
Cutting-edge powers cooperation
What is emotional intelligence? It is the ability to understand what motivates other people and how to work cooperatively with them. Basketball teams use it to win the toughest of games; companies use it to grow sales during all seasons; marketers use it to create inspiring marketing and advertising campaigns.
There's a lot of talk in marketing, in particular, about improving customer experience by displaying data-powered empathy, which essentially means using as much data as needed and offering consumers items they actually want or need. If it was still unclear in the business world and beyond how important data and emotional intelligence are to success, consider the Raptors' underdog masterpiece.
Empathy beats phoniness
From a bigger picture, the embrace of empathy in men's team sports has been interesting to observe in recent decades. In the 1980s, men's and women's team sports acted starkly different in terms of the camaraderie. The women were more empathetic; the men were more independent.
Along came the Chicago Bulls in the 1990s and Phil Jackson, their spiritual guru and head coach. Jackson had his team read philosophical tomes together as if they were in a Tuesday night book club. Their approach and subsequent success influenced men's team sports to be more empathetic. Empathy and getting better connected to your coworkers became a winning strategy. Men's teams started catching up with women's teams for humanizing the entire experience. With women now being hired as coaches and data scientists in the NBA, this trend will likely continue.
---
You May Also Enjoy:
---
The Raptors are clearly the Bulls' evolutionary heir, playing with a togetherness that's obvious in the way they play and strategize. In terms of the latter, the Raptors use an offense that maximizes collective intelligence and inherent unselfishness. Meanwhile, perhaps the most talented NBA team, the Philadelphia 76ers, lost early in the playoffs because they lack that emotional intelligence. They are too disconnected; they are an incredible collection of talent that doesn't gel. From a business perspective, they are an organization that's not connecting the dots internally, and their external performance suffered because of a lack of cohesion and intelligence.
'Rapt' attention needed
How can businesses and marketers be more like the Raptors and less like the 76ers? They need to embrace emotional intelligence internally and externally as an irreplaceable building block for future growth. Marketing and sales teams should know each other better while understanding their goals and challenges. Tight-knit organizations not only produce better results but also stay together longer. Continuity is a huge part of business success, and it's imperative to constantly show employees that your company actually cares about them. Consider that 93% of employees would stay at a company longer if it invested in their careers.
Externally, you need to speak to customers in an intelligent fashion via digital and offline channels. When it comes to stressful purchases, emotional intelligence is the most important attribute in a salesperson to 25% of consumers. It doesn't matter if the communication is via email, text message, chatbot or in-person.
Some businesses and marketers are only scratching the surface of what it means to be emotionally intelligent. Those brands doing a good job are the ones which stitch together a comprehensive, accurate view of a customer's preference. As one example, they predict if a frequent shopper is going to become a lapsed loyalist based on what they said on the phone or via a digital message. They "get" that when consumers only purchase from a single category, like pants, brands can use different datasets to expand their shopping categories. Those marketers identify shoppers who have (or who will have) a higher lifetime value based on purchasing patterns.
Businesses should continue to lean in emotional intelligence and data with their internal organizations, their customer journey and their advertising. It's a winning look going forward, and the Raptors are the latest proof.
Julia Stead is CMO of Invoca.