Topic |

Chief Marketing Officers
How the role of the CMO is becoming more data-driven.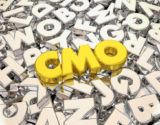 Global Chief Marketing Officer for SAP Alicia Tillman lays out the new characteristics of the next generation of CMOs.
To better understand why the CMO lifespan is so short compared to others in the c-suite, Engage Talent conducted research that may provide some clues.