Viva Nerd Vegas: Comic-Con Marketing Round-Up
Every possible pop culture fandom is descending on San Diego this week, and brands are taking notice. Here's a round-up of some of the most interesting 2018 Comic-Con International marketing activations and promotions.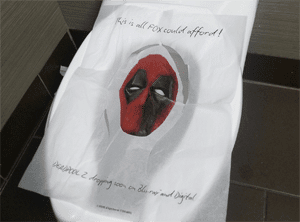 Deadpool 2 Drops. The promotions for the theatrical release of this movie were in keeping with the off-kilter personality of its hero, and the buzz being generated for the Blu-ray is no different. Fans checking into their hotels for Comic-Con found the face of Merc with a Mouth gracing the bathroom throne on a toilet seat cover with the tagline "This is all FOX could afford! Deadpool 2 dropping soon on Blu-ray and Digital." Want one of your own? Bleeding Cool reports the covers are already popping up on eBay for $40 each.
When the Scavenger Hunt Starts, Beep Me. With the money it apparently saved on plugging Deadpool 2, FOX is celebrating Buffy the Vampire Slayer this Saturday with a scavenger hunt. Fans can register online and then look for vampire nests throughout the city and the San Diego Convention Center to help defeat classic Buffy foe The Master. At each location, fans can win prizes like t-shirts, pins, stickers and Funko Pops.
Conan Conquers ComicCon. Speaking of Funko Pops, Conan O'Brien has again brought his show on the road to San Diego for a week of Comic Con centered episodes, and fans are again scrambling to get the exclusive Conan Pops being given away to attendees of the tapings (this year's are Rebel Pilot Conan, Ant-Man Conan, Hellboy Conan and Predator Conan). Fans at home can enter a code online for a chance to win Pops for themselves. The show has also partnered with DirectTV on the @ConanCon Instagram handle to share behind-the-scenes footage and news from the show.
---
You May Also Enjoy:
---
Geeks Be Gone? Geeks Be Angry! And you wouldn't like them when they're angry. Gaslamp Quarter bar The Smoking Gun decided it would be fun to promote a post-con party called "Geeks Be Gone," offering civilians who might not enjoy barhopping with people dressed like Chewbacca and Wonder Woman the chance to party in peace after the con. They claim it was a joke, but the fans who flock to the city and spend a lot of money in its businesses and restaurants—particularly in the nearby Gaslamp Quarter—didn't think it was very funny. They shared their displeasure all over social media, pledging a boycott of the watering hole, causing the bar to pull down the posts and apologize, reports the Times of San Diego. A more recent Twitter post from The Smoking Gun was decidedly more geek friendly, with an image of classic TV Batgirl Yvonne Craig and the tagline "Where Superheros Can Be Themselves."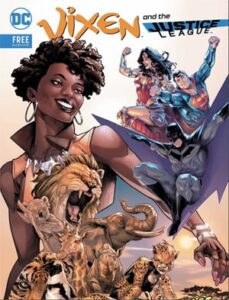 Will Beppo the Super Monkey Be There? Of course, many San Diego businesses were much more welcoming to the fans who visit. The San Diego Zoo partnered with DC Comics to offer Zoo visitors a limited edition comic book featuring the Justice League and Vixen, a superhero who gets animal powers from a magical totem. Visitors who are wearing DC-related garb like hats, t-shirts or jackets (sorry, no costumes) save 20 percent off admission during the promotion.
Padded Cell? Sounds Like the Place for Me, Puddin'. One of DC Comics' biggest promotions at Comic-Con is for DC Universe, its new streaming service which will feature new content like Titans and Swamp Thing live-action series, classic shows like Batman: The Animated Series and Lois & Clark, and a library of thousands of comic book titles. (TV Guide has the scoop here.) Fans could start signing up for memberships both online and at the con this week, so to get them excited a DC Universe Experience activation is on tap at the show. As CNET details, attendees can channel their inner Harley Quinn by swinging around a baseball bat in a padded cell, or try their hands at Batman Court of Owls- or Titans-themed puzzle rooms.
Relax, Everything is Fine. Not all the activations are superhero-themed. NBC has created an interactive experience where fans can experience the afterlife of The Good Place. Variety reports fans can pose for pictures in some of the show's memorable locations. Nearby, the Tin Fish restaurant will transform into "The Good Plates," offering special themed dishes (The Good Place is chock full of spectacular food puns); 50 percent of proceeds from select items will go to No Kid Hungry.
Jack Isn't a Dull Boy. If you're looking for a more "active" activation, Amazon has created an immersive experience to help folks train like Tom Clancy's secret operative Jack Ryan. According to IGN, the 4-D experience lets trainees test their skills at a zipline and an escape room, as well as browse a bazaar in Yemen where silks, spices, ice cream and bottled water (an essential for con goers and spies alike) are available.