Deadpool 2: Marketing the Merc With a Mouth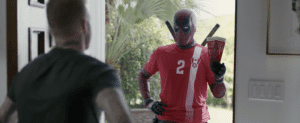 The marketing of "Deadpool 2" is bananas, but in the best possible way. On just about every media platform imaginable this week, you can't swing a chimichanga without hitting the antihero embodied by Ryan Reynolds.
He's in music videos dancing alongside Céline Dion. He's taking over Stephen Colbert's monologue. He's showing up at the home of David Beckham, apologizing for the dig he took at him in the first "Deadpool" movie.
As FastCompany.com notes, "Deadpool 2" is building on the guerilla strategy of the first "Deadpool" movie, which included elements like a Tinder profile and an hour-long 'Pool Log video for the holidays (think Yule log, but more scatological). The strategy helped turn the Merc With a Mouth's debut movie into one of the most profitable R-rated movies ever.
---
More Marvel Movie Marketing :
---
This time out, there are the obligatory tie-ins. But because Deadpool isn't exactly a kid-friendly superhero (and try telling that to your children, who likely love him like crazy), the promotions aren't of the Happy Meal variety. Mike's Harder Lemonade is rolling out collectible Deadpool packaging and turned bars in NYC and Los Angeles into recreations of one of the hero's favorite dive bars, Sister Margaret's School for Wayward Girls.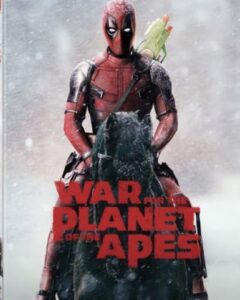 At Walmart, Deadpool is photobombing a number of Blu-ray covers of other Fox Home Entertainment movies. His masked mug replaces Clint Eastwood in "The Good, the Bad and the Ugly," and Caesar in "War for the Planet of the Apes," among numerous others.
Unlike "Avengers: Infinity War," which gave everyone pretty much what they expect in promotion for a big-budget summer superhero film, "Deadpool 2" goes in the opposite direction. As CinemaBlend notes, no one know what will come next in the Deadpool marketing blitz. Could anyone have predicted the Deadpool as Bob Ross viral video, or the Trolli tiny hand candies, or his bid to get Canada into the Eurovision competition? Probably not.
Deadpool is possibly the undisputed king of the viral video—consider Inc.'s analysis of how his collaboration with Céline Dion did everything right.