Incredibles Make Asics Part of their Super Suits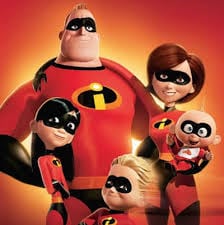 Considering that one of their members is a speedster, it makes perfect sense that sneaker brand Asics is a promotional partner for Disney-Pixar's "Incredibles 2."
The campaign, based on the goal of "getting familes moving this summer," launches on digital channels this month to coincide with the film's June 13 release. The creative builds on Asics' recently launched global brand campaign "I Move Me," which hopes to inspire people of all ages and ability to get mobile.
Digital content and in-store activations will feature in the promotion, which will include a series of "super workout videos" inspired by the powers of each character. International Asics FrontRunners, the brand's "ambassadors of movement," will be featured in the clips.
Five styles of limited edition sneakers will also be available, each design inspired by a member of the Incredibles family.
---
More Movie Marketing Magic:
---
Other brands lacing up for the the marketing push of the Incredibles first movie in 14 years include the American Egg Board, which partnered with the movie to create a short video showcasing how Jack-Jack likes his eggs. An accompanying webpage offers recipes suited to each character's personality. (Edna Mode's Avant Garde Cloud Eggs, anyone? Maybe wash them down with a Frozone's Frozen Blueberry Smoothies?)
And because even superheroes need to feel safe, ADT partnered with Disney-Pixar for a fun spot showcasing how ADT's Pulse mobile app can help families keep their homes secure, even if their children have a tendency to turn invisible or burst into flame now and then.
"This felt like a pretty special opportunity," Shannon Hendrickson, director of media and advertising at ADT told AdWeek. "It's not every day when you see these types of integration being done, where a company's higher purpose so closely ladders up with the theme of the movie."