Wait, Wait… Peter Sagal Shares How to Tell a Joke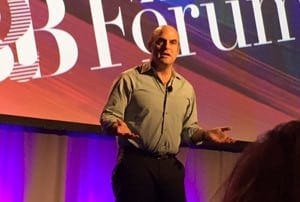 Peter Sagal gave a great closing keynote on how to tell a joke at MarketingProf's B2B Forum last week in Boston—but you really had to be there.
Why? It's simple. Humor works best when it's in context and in the moment. A day, a week or even minutes later, and the joke might not be so funny.
That's why Twitter and the in-the-moment immediacy of the 140 character forum can be so much fun, said Sagal, host of NPR's weekly panel show "Wait, Wait…Don't Tell Me!" When he came out on stage, he joked it usually took people about five minutes to get used to what he looked like. (Because he's a radio personality—see? Take a joke out of context and explain it and it doesn't work quite so well.)
Sagal told the audience that he had no idea what they did. "B2B….you have something to do with bed and breakfasts." He read up on the industry via the show's website but some of the things he found there didn't clarify matters. "Funnel marketing? You're just making this **** up."
Sagal was a playwright before he began hosting "Wait, Wait…" 18 years ago. To prepare to address the MarketingProfs audience on the art of telling a joke, he started to think about what makes a joke funny, and what makes jokes work.
Of course, he noted, the problem with that is, to quote E.B. White, "Analyzing humor is like dissecting a frog. Few people are interested and the frog dies of it."
There are many different styles of humor. Comedian Stephen Wright is a genius at telling short non sequitors. (I went to a restaurant that serves "breakfast at any time." So I ordered French Toast during the Renaissance.) Other comedians and cultures tell long stories that wind their way to the punchline. "Jews have a rich storytelling tradition, or whining tradition, depending on how you look at it," Sagal joked. "Every joke is a story, except for puns—puns suck."
In today's age of content, storytelling has become essential to marketing. But humor, unlike other kinds of storytelling, has to exist in the moment. (Again, consider the appeal of Twitter.)
"How many of the stories do you tell end with you saying 'you had to be there,'" he said. "Jokes are spontaneous—or they try to be."
He cited "Wait, Wait…Don't Tell Me!" as a prime example of this. If you've ever listened to the show, you know that it sounds like everything is happening in the moment. But in reality, a week's worth of writing and rewriting has gone on to craft those off-the-cuff quips. "We prepare very, very hard to be unprepared."
The best comedy shows feel like what is happening on stage is happening for the first time and you're there to see it, he said. "Humor can take people out of the norm and put them in the moment."
Related Stories:
Logicalis Uses Humor in IT Campaign
Why You Should Use Humor in Your Content Marketing Strategy
Oh, That's Good—Campaigns Our Editors Loved