Oh, That's Good–The Campaigns Editors Loved in 2014
What campaigns won the hearts of the editors of Chief Marketer, Multichannel Merchant and Event Marketer this year? Here's the scoop.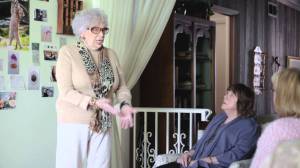 Esurance Gets How It Works
How do you explain all the features and benefits of a car insurance policy in 30 seconds? You don't. And does anyone really care if it takes you 15 minutes to get a quote, or half that time? Probably not. But if you can get the point across and engage the viewer, your name will become top of mind.
GEICO has done this over the years with its gecko, Maxwell the Pig, the cavemen, the Bluegrass guys, etc., and Progressive has Flo.
Now meet Beatrice, before she unfriends you! Beatrice and fellow Esurance characters like Shirlee the Candy Crush enthusiast and Milton the photography fanatic are welcomed to the modern world. And as they are all told after they show off their non-tech ways, "That's not how it works."
Here's what makes Esurance great (or, at the least, a major upgrade from the animated Erin Esurance campaign).
First, the catch phrases have spread offline. My wife tells me she's nicely told her colleagues, "That's not how this works…that's not how any of this works!" And I've heard people take a photo of themselves in public and say, "Hashbrown, selfie!"
But it's also spread like wildfire online. The images and catch phrases lend themselves to the perfect meme. And the Beatrice memes have yet to grow stale, no matter how many times I've seen them pop up on Facebook, Twitter or Instagram.—Tim Parry, managing editor, Multichannel Merchant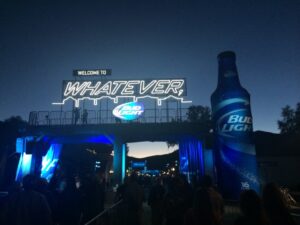 Bud Light Was Up for Whatever
The highlight of the year, for me, has to be the Bud Light #WhateverUSA campaign in Crested Butte, CO. The brand took over the entire downtown section of the city, painted the street and lampposts blue, rebranded all of the local businesses and set more than 1,000 lucky consumers free to frolic, have adventures and generally show that they were #upforwhatever.
For the brand, it was a content play. They pulled thousands of hours of video, both user-generated and professional, which are already rolling out as television and Internet ad spots. The social reach was huge, too, thanks to well-placed "Selfie Stations" and constant adventures earning hashtagged tweets from the excited attendees.
Finally, the event was one-of-a-kind this year. No one else went so all out or all in for any campaign that I've seen, and it looks like it paid off for Bud Light.—Kenneth Briodagh, senior community editor, Event Marketer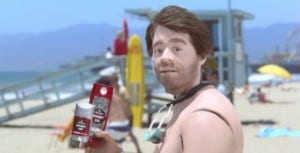 Old Spice's Mandroid—Strange but Memorable
Some ads are weird—like really weird when seen in context with other commercials. Old Spice's "Mandroid" commercials for both TV and the web are going for the "weird for the sake of it" plan for going viral, and feature a slightly disturbing humanoid robot that vies for ladies' attention while malfunctioning in spectacular ways.
These ads were designed to get people talking, and the bizarre and almost creepy aesthetic of these commercials is unique to the Old Spice brand (though the Mandroid is not as over-the-top as its previous campaign featuring Terry Crews). While outwardly you'd never know these were ads for deodorant and body wash, they are strangely memorable, and they are running during prime time sporting events, so a wide audience has been experiencing these oddball ads all summer long.
This campaign isn't for everyone—my wife can't stand the sight of the Mandroid, explaining that it "freaks her out." I can't blame her, as the weird guy in the Trivago ads has the same effect on me.—Patrick Gorman, senior editor, Chief Marketer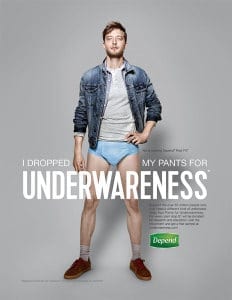 Drop Your Pants for Depend
Sometimes a little humor coupled with goodwill can go a long way—especially if your brand deals with a health condition that's not easy to talk about openly.
So, during a summer of "Ice Bucket Challenges," I can't help but applaud Kimberly-Clark's Depends brand challenge to raise awareness about bladder leakage among a younger audience: "Drop Your Pants for Underwareness." For every pant-dropping photo or video shared with hashtags #underwareness and #dropyourpants, the brand pledged to donate $1 up to $3 million over the next three years to The Simon Foundation for Continence and the United Way.
To kick off the campaign, the brand hosted a free concert featuring Capital Cities in New York City, complete with activations that got consumers changing out of their jeans and into Depend products.—Rachel Kirkpatrick, managing editor, Event Marketer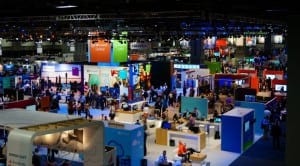 Microsoft Shows Off
One of the live marketing events that stands out for me this year was the Microsoft Worldwide Partner Conference in Washington D.C.
They had a refreshing approach to a typical exhibit hall that featured the company's products in contextual environments. So for instance, Delta airlines sent two of its flight attendants to show how Microsoft's technology makes their in-air inventory and catering services easier. Coca-Cola was also there to do the same, but for its distribution program.
I thought it was so smart to show, versus tell, attendees how everyday brands are using the company's products as a way to make it easy to understand, and to spark attendees' imaginations. (Plus, no boring demos…now that's refreshing!) Another memorable experience from the show: a "find the expert" app and walkup bar where attendees could use geolocation to literally find an expert on a specific subject and connect with them at the show. Too cool.—Jessica Heasley, group editor, Event Marketer/Event Marketing Institute
Cartoon Network is Awesome
Every week, my kids and I make a trip to the comic book store. My 8-year-old and I often read comics together—one of his favorites is DC Comics' "Teen Titans Go!"
DC and Cartoon Network are both owned by Time Warner, so it's no surprise that the comics often feature ads for the cable net's properties. Now, I have to admit, I typically don't pay much attention to the Cartoon Network ads. While my kids love their programming, most of it just doesn't click with me. And it shouldn't—I'm not their target audience, and that's just fine.
But one ad in "Teen Titans Go!" #5 caught my attention. The full-page ad featured two pizza slices wearing sunglasses and high-fiving each other, with the headline "In the next 12 seconds, you will continue to be awesome." The line is from "Uncle Grandpa," where the lead character—the grandfather and uncle of everyone in the world—visits kids and helps them with their problems. I have no idea where the talking pizza slices come in, nor do I care.
But I love this ad. We read it on the second day of the new school year, a time when many kids are excited about meeting new classmates, but insecure about social and academic pressures. I don't know the original context of this quote, but as a parent and child, it was an extremely cool thing to see.
Yes, my kid will continue to be awesome for the next 12 seconds, and the next 12 seconds after that, and into infinity. We've embraced this as a mantra, and I've repeated it to my boys several times in the last week, and it always gets a smile. It's important that our children know we think they are awesome, and I thank Cartoon Network for the reminder.—Beth Negus Viveiros, managing editor, Chief Marketer