November's Top 10 B2B and Martech Tales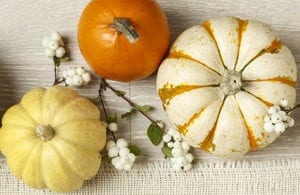 Got room for more? These articles are anything but leftovers—they're the 10 most popular B2B and martech articles on ChiefMarketer.com for November 2017.
Georgia-Pacific Pro's Personal Bathroom Chatter
Georgia-Pacific Professional wants to get personal with its B2B customers. Very personal, as in so personal they're involved in their bathroom conversations.
Why Sales Enablement Matters to Marketers
Think sales enablement is the sales manager's job and not marketing's responsibility? Wrong.
2018 B2B Lead Gen Trend Survey
Learn where B2B marketers are investing their time and budget to nurture and convert prospects in Chief Marketer's 2018 B2B Lead Gen Trend Survey.
Four Event Marketing Metrics That Matter
With the emergence of digital marketing platforms, too many marketers are evaluating their event marketing campaigns through marketing performance indicators like views or clicks, rather than business metrics.
Improving SEO: How to Set Up a Diverse Link Profile
Search engine optimization (SEO) is accomplished through a variety of factors but perhaps one of the most important is backlinks.
Medidata Builds B2B Branding Platform on Hope
A branding platform centered on the theme of creating an "Architecture of Hope" has helped drive revenue and power Medidata's first advertising campaign.
5 Tips to Humanize a Marketing Technology Brand
It doesn't matter if someone is buying one iPhone for themselves or spending hundreds of thousands of dollars on a martech stack: Technology purchases often come down to how someone feels about a brand.
AI Helps JP Morgan Boost Customer Engagement
Artificial intelligence (AI) is helping JP Morgan Chase improve customer engagement with retail banking customers.
Platform Integration Improves UL Marketing Focus
Integrating numerous legacy platforms helped UL boost marketing performance and raise the profile of the department as a revenue generator.
Staples' Martech Roadmap
Creating a marketing technology roadmap helped Staples get a better picture of their customers and what was needed to improve their journey going forward.