Medidata Builds B2B Branding Platform on Hope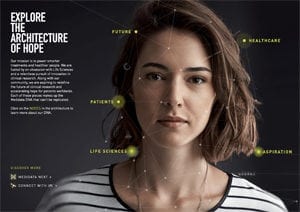 A branding platform centered on the theme of creating an "Architecture of Hope" has helped drive revenue and power Medidata's first advertising campaign.
Medidata is a cloud platform designed to help run clinical research trials. The company, which works with 18 of the top 25 pharmaceutical companies, has about 1,000 customers, running approximately 13,000 clinical studies
"There are many people involved in the clinical research industry and there are a lot of different personas involved in the process," says Simon Mouyal, CMO, Medidata. "The main challenge is to identify them, especially in large pharmaceutical companies."
There are numerous facets of the audience, from the data managers who work to clean and standardize data, to the clinical operations staffers who look at the process of the trials. And, there are non-IT people who are focused on the science of the research. Up to 60 people can be involved in influencing buying decisions for software related to clinical trials
High-touch, in-person efforts are still an optimal way to connect with prospects, notes Mouyal, but it is becoming harder and harder to have the right conversations to the right people. This is leading to more investments in digital media.
Medidata launched the branding campaign to help it stand out from the crowd. "We looked at the websites of our competitors, and everyone seemed to be saying the same thing. It was hard to differentiate the value proposition—everyone was saying that they help the customer run their trials cheaper, faster, whatever. We needed to translate our mission into something we could own and show what that meant to the audience."
Working with gyro last fall, Medidata created a campaign to share not only product information but the outcomes the product could help drive for customers, patients and partners. Brand creative was revamped from a visual perspective for the website, as well as banners, video and other content.
In the second phase of the campaign, the people behind the "Architecture of Hope" were highlighted, from areas like life sciences, healthcare professionals and patient care. "We wanted to use the innovative mindset as an inspiration for the community," he says.
Engagement for the campaign was strong on Twitter, and programmatic advertising was heavily used to connect with the target audiences. The theme was carried through email newsletters, print advertising, PR, event marketing and a brand experience on the website.
Clickthroughs for the campaign more than doubled expectations, contributing to 20 percent YoY growth in revenue for the company.
Related Articles:
Platform Integration Improves UL's Marketing Focus
AI Boosts JP Morgan Chase's Customer Engagement
John Wiley's Next Chapter Includes Better Customer Data