Arrow's Stephen Amell Hits Marketing Bull's Eye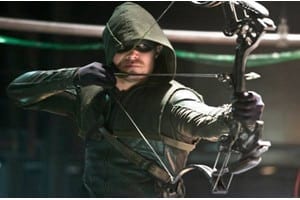 Stephen Amell is one of those celebrities who really seems to be enjoying his status.
And well, why shouldn't he? The actor has a fun day job, playing the superhero Green Arrow on the CW's "Arrow." In his spare time, he co-founded Nocking Point wine club, which was the subject of an interesting profile in The New York Times last week.
Amell deftly used his vast social media followings on Facebook and Twitter to spread the word about the club. He communicates regularly with fans via social—Amell was one of the first to use Facebook Live to chat with his followers.
Of course, Amell isn't the only example of an actor to use social as a tool not only to promote upcoming acting gigs but side projects and charitable concerns. "Star Trek" legend George Takei communicates with his nine million+ Facebook followers regularly and used social to help crowdfund the Broadway musical "Allegiance."
Both Ammel and Takei also take pleasure in meeting fans in real life at conventions, which can be lucrative opportunities for celebs willing to spend weekends signing autographs and posing for photo ops. Ammel even co-founded a talent agency and took a stake in the Heroes and Villains Fan Fest to leverage these interactions.
Related Articles:
Four Lessons From Marvel's Movie Successes (And DC's Shortcomings)
Right Now, In a Galaxy Close to You, Rogue One Marketing is Here