Angry Nike Customers Set their Gear on Fire
Burning sneakers. Fiery words. Boycotts.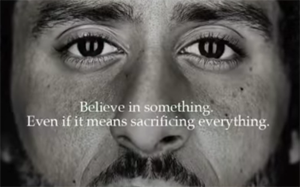 Those are just some of the reactions to Nike's announcement that it picked Colin Kaepernick as one of the faces to celebrate the 30th anniversary of its "Just Do It" motto.
Kaepernick is a former San Francisco quarterback and the first NFL player to take a knee during the national anthem to bring attention to racism, an action that caused widespread condemnation and approval. The Nike news also set social media on fire with those angered by—and supporting—Kaepernick's choice calling for people to boycott the brand and burn their sneakers.
One video shows a Nike customer doing just that.
In another post from @JohnRich, he writes: Our soundman just cut the Nike swoosh off his socks. Former Marine. Get Ready @Nike. Multiple that by the millions.
It all began after Kaepernick posted Monday on Instagram a black-and-white close-up of himself with the Nike logo, the "Just do it" slogan and the words: "Believe in something. Even if it means sacrificing everything."
---
Other articles you might enjoy:
---
This morning, more than 30,000 people were tweeting with the hashtag #NikeBoycott, Yahoo news reported.
Some big names came to his defense as well, including LeBron James, Kevin Durant and Serena Williams who tweeted a photo from her own Nike campaign with the message: "It's only a crazy dream until you do it. Especially proud to be a part of the Nike family today.".
Kaepernick has had a fairly long relationship with Nike, which has sponsored the athlete since 2011. Yahoo also reported that he has negotiated a new deal with that will include a signature shoe and apparel.
Nike shares fell more than 2 percent, Yahoo reported.