Using Thought Leadership to Get Your Business Voice Heard Online
The old adage that 'Content is King' still rings true, but many B2C and B2B marketers and buyers are disappointed with the quality of thought leadership articles being published online today. Indeed, only 30 percent of B2B marketers are satisfied with how their organizations are pushing content marketing—a figure which can easily be improved with the right know-how.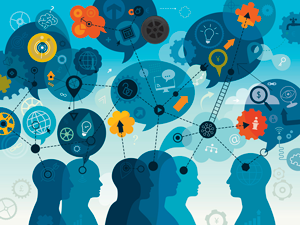 Customers read, watch and listen to things that pique their interest, so in order to make your content really stand out you need to understand and stimulate your audience. By finding a compelling way to discuss well known topics, or by taking an unexpected spin on something in the news, writers can take thought leadership from bland to captivating in just a few simple steps.
Here are six key steps to keep content fresh and engaging:
1. Don't generalize
Use pinpoint precision to target your audience, and write content with a specific market in mind. This is key for two reasons, first it will help achieve cut-through as you can talk about a topical subject in-depth and avoid repeating information that's already well versed online. Secondly, it will support your role as a subject matter expert, and not someone who discusses issues briefly, without necessary detail.
2. Take a stand
The majority of opinion-led articles struggle to get reader engagement as the content isn't new or enlightening. As readers, we're flooded with content on a daily basis, and 'vanilla' opinions often don't catch our eye. By taking a strong stand you can also then solicit more direct responses to your content and pose questions to further engage your audience.
3. Know your niche
It's critical to understand your place within the market and where your company's skills sit before you start developing content. Question what you can offer that nobody else has done before, and what insights you can share that are truly unique. Only then can you work out what your organization's niche is, and then determine your target audience.
---
Other articles you might enjoy:
---
4. Choose channels wisely
Posting the right type of content on the right platforms will help gain the most traction. An in-depth review of a whitepaper for example, is likely to be more at home in a specialist trade publication, while a note on a new business benchmark would fit better on a LinkedIn business page. Assessing what content sits where and being consistent with it means readers know what to expect from your business depending on where they find your message.
5. Curate selectively
While it's important to keep things varied, we also need to remember that sometimes less is more. More content doesn't always equal more engagement, especially in an already crowded environment. Being selective with the best options will allow you to create a defined and interesting voice, rather than simply adding to the noise. Focus on doing fewer things better, and you'll build a reputation as a genuine expert.
6. Challenge your brief
When trying to balance the demands of what's interesting, what the client wants, and what the readers want to see, we can often get caught up, and end with a piece of content trying to be all things to all people. My advice here is don't be afraid to challenge a brief if it doesn't feel like something you can deliver quality on. Marketers may not be 100 percent confident on who their desired readers are, or what they want to say with their message. By ironing out these questions early on, marketers can understand the details sooner than later, and help collaborate on the brief to ensure a finished product both sides are happy with.
It's never too early to start thinking about how to make a piece of content better. The best time to really challenge yourself when developing content is in the preparation stage. Catching a reader's imagination and selling the company's unique voice is hard, so make sure to thoroughly scrutinize your idea in the early stages before building it out.
Lastly, don't let yourself down at the last hurdle. If you don't have the resources to ensure your content is suitable for the intended platform then enlist specialist help.
KL Daly is content partner manager, EMEA at LinkedIn. She can be reached at [email protected].