Building Engines Leverages Original Research for Thought Leadership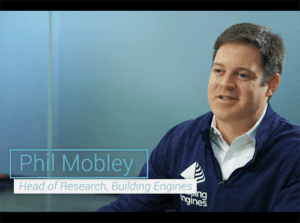 A first of its kind industry benchmark study is serving as the cornerstone of a B2B thought leadership strategy for software company Building Engines.
The Boston-based firm is a SaaS provider for the commercial real estate industry, offering maintenance and workflow communications platforms. Analysts don't really cover this space closely, so there was an excellent opportunity to step up and fill the void as a thought leader, notes on-demand marketing strategist Katie Martell, who worked with Building Engines to develop the report.
There's definitely a void for solid thought leadership in B2B in general, says Martell, who spoke at Connect to Convert earlier this month. She noted that only 14 percent of c-level folks say the thought leadership they read is very good or excellent according to Edelman. "Your buyers are hungry for insight."
In 2017, Building Engines launched the 56-page "State of Commercial Real Estate Operations" benchmark study. It served as the basis for a number of strong top of funnel assets, including videos, infographics, presentations at industry events, ABM direct mail, blog posts, press releases, bylined articles in industry publications, social posts and more.
The study was also turned into a microsite, the CRE Resource Center, tailored for the executive buyer in the space. The site included videos featuring head of research and tenant experience Phil Mobley (to show there was a living, breathing person behind the numbers), as well as an interactive assessment where visitors could answer a few simple questions to see how they stack up against the benchmark data.
And, there was also the opportunity to register to receive the full report and sign up for an on-demand webinar.
Content from the report is still being rolled out in Building Engines' social channels says Mobley, who will discuss the topic with Martell in Chief Marketer's free virtual event on Nov. 8, Content First Marketing.
Over 900 industry professionals responded to the survey, including both customers and prospects, says Mobley, noting the underlying idea behind the report was to help commercial real estate professionals consider the top two metrics in their field, occupancy and rent, and then look at all the aspects of successfully managing a building.
"Start by thinking about what you want to say," he says, noting Building Engines is continuing to build its industry thought leader profile by partnering with an industry association on another study. "That's not the same as having preconceived ideas about the results."
To hear more from Katie Martell and Phil Mobley, join us on Thursday, Nov. 8 for Content First Marketing, a free virtual conference.